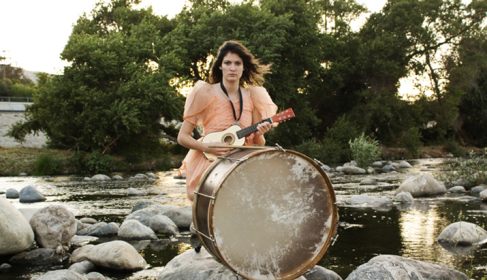 MP3: Amanda Jo Williams – The Bear Eats Me
Most critics agree on the praise for Amanda Jo Williams. Although her voice is highly idiosyncratic, with a clawing southern drawl and punchy delivery, her songwriting is inventively addictive; the contrast is like sweet and sour, blending together with a seemingly natural intent. What is undecided among both critics and fans, however, is how they would classify Williams. Some use the convenient freak-folk tag, putting her alongside names like Devendra Banhart. Alt-country is usually the other classification, with comparisons to older artists like Hank Williams Jr. and Loretta Lynn. Neither is necessarily wrong. With Williams' revolving door of styles, it's hard to be concise.
"The Bear Eats Me", off her album of the same name, reminds me of original folk innovators like Malvina Reynolds and Karen Dalton, who would stay true to the genre's barebone minimalist tendencies, all while touting their unique arsenal instead of futile attempts to cloak it.  Their songwriting ramps up the accessibility; odd sounds that may catch listeners initially off-guard expand into truly fascinating pieces. Joanna Newsom is arguably the most popular example of this in independent folk or alt-country, and not just because of her oddly ethereal voice either. "The Bear Eats Me" presents a similar form of oddball folk and country, though sounding like it would emanate from a 1950s jukebox rather than an ambitious orchestra.