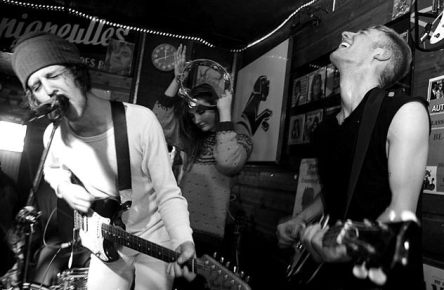 MP3: Black Manila – Fiasco
London-based Black Manila cite hardcore early garage, specifically The Pretty Things, as a major influence, but "Fiasco" touches on ferocious art-rock and sneering punk as well. Over repetitively hypnotic guitar strums, nasally excitement from the vocals gives a foreboding sense of a big chorus. The verses' simplicity suggests it on its own, so when the chorus does arrive in its full grace – and the stop-start pattern of the screeching guitars descends into a dramatic murmur – the listener is fully prepared. The guitar work packs plenty of personality throughout, especially on the instrumental bridge comprising the track's final two minutes.
Fans of The Pretty Things, The Move, and other influences of garage-rock will enjoy Black Manila quite a bit, but so will admirers of art-rock like The Cribs and The Rakes. The Walkmen is another accurate comparison, or at least their more ferocious tracks, like "Danny's at the Wedding".
Here's the video for "Fiasco":