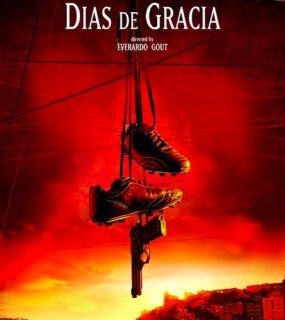 Massive Attack and Scarlett Johansson – Summertime (George Gershwin cover)
Upcoming Mexican thriller film Days of Grace already has a prestigious soundtrack; Nick Cave, Atticus Ross (The Social Network), and Shigeru Umebayashi (House of Flying Daggers) have a bunch of efforts on the 39-track soundtrack, each focusing on one of three storylines. It's  an interesting premise for sure. I'm curious to see/hear the execution.
In addition to an effort from ex-UNKLE member Tim Goldsworthy, the most surprising track comes courtesy of Massive Attack's 3D project and tantalizing actress Scarlett Johansson. Even odder than the collaboration itself, they tackle George Gershwin's classic "Summertime".
Johansson also performed a "Summertime" cover on her 2008 debut Anywhere I Lay My Head, which contained mostly dull and uninspiring folk fare. But this may mark a more ambitious direction to her musical career, which has yet to match the accolades of her day job. She may always be nothing more than "a voice", but at least it's a soothing one.
Check out the trailer and tracklisting below:
1. The Shack – Nick Cave & Warren Ellis
2. Mundial de Futbol/Vivir en México (Victim X dialogue) – Carlos Bardem
3. Wrong Bust – Nick Cave & Warren Ellis
4. Hiena (Lupe's dialogue) – Tenoch Huerta
5. Butcher's Hook/Porcinos Mexicanos – Nick Cave & Warren Ellis
6. Días de Gracia (Comandante's dialogue) – José Sefami
7. Here's a Little Jolt for You – Nick Cave & Warren Ellis
8. Criminal Traicionado (Madrina's dialogue) – Verónica Falcón
9. Bronco – Nick Cave & Warren Ellis
10. Burning the Shack – Nick Cave & Warren Ellis
11. The Whack (Entering Kitchen) – Nick Cave & Warren Ellis
12. Siempre hay alguien (Comandante's dialogue) – José Sefami
13. Destiny – Nick Cave & Warren Ellis
14. Days of Grace – Nick Cave & Warren Ellis
15. Buenos dias muchachito/Pecados (Teacher's dialogue) – Tenoch Huerta
16. Broken Time – Atticus Ross, Claudia Sarne & Leopold Ross
17. Kidnap – Atticus Ross, Claudia Sarne & Leopold Ross
18. Drugs – Atticus Ross, Claudia Sarne & Leopold Ross
19. Fear – Atticus Ross, Claudia Sarne & Leopold Ross
20. Revelations – Atticus Ross, Claudia Sarne & Leopold Ross
21. Hazla buena (Victim X dialogue) – Carlos Bardem
22. Quiero la verdad (Susana's dialogue) – Dolores Heredia
23. Sumado: The Echoes between Stories – Shigeru Umebayashi
24. Susana's Cello – Shigeru Umebayashi
25. Talking on the Water – Shigeru Umebayashi
26. Max's Brother and Susana's Daughter – Shigeru Umebayashi
27. One Way or Another – Shigeru Umebayashi
28. Her Emotions of Silent Thought – Shigeru Umebayashi
29. Not Knowing How Things Will End – Shigeru Umebayashi
30. Susana and Camila – Shigeru Umebayashi
31. Sumado: Cast the Shell – Shigeru Umebayashi
32. Song for Tula – Shigeru Umebayashi
33. Como dije (Victim X dialogue) – Carlos Bardem
34. Assault For La Coca – Bot'Ox
35. The Meat Song – Bot'Ox
36. Permanent Shade – Tim Goldsworthy, Euan Dickinson & Billy Fuller
37. Summertime – Scarlett Johansson vs. 3D
38. Vivir en México (Doroteo's dialogue) – Kristyan Ferrer
39. Kantele – Shigeru Umebayashi