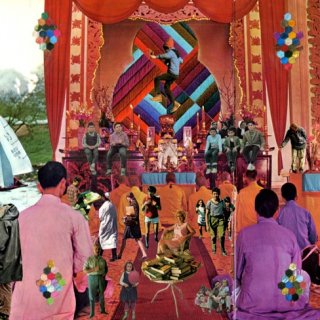 The samples within Monster Rally's sound are so meticulously placed, it makes one wonder how massive and eclectic Ted Feighan's record collection is. Judging by Feighan's impressive work as the sample-friendly Monster Rally, the collection probably takes up several rooms. His dreamy, ethereal, and usually tropical soundscapes take you somewhere distant and calm, or at least make you wish they really could, using a variety of samples and apt production choices. Even better, Monster Rally's new full-length, Beyond the Sea, is available for free here.
Bells creep in (on their tiptoes) on "Honey" as a soft bass lull surrounds the background, assuming a fleeting melody when the drums kick in — right before the one-minute mark. Like most tracks on Beyond the Sea, the production sounds deep and warm — mainly an attribute of the all-encompassing bass murmur, but also the delicate pace at which the samples flow. "Animals" has that gentle bass drag, with the sort of keys 'n' bells lead you'd expect to hear on a drugged-out Super Mario Sunshine challenge. Meanwhile, "Ghosts" is aptly named as it seduces with its hypnotizing vinyl crackling and old-timey guitar lead, which sounds like it was recovered from a dance hall where souls continue to sway.
My personal favorite track, "Snoozer", plays with a looped piano progression as it crosses paths with starry synth pads that grow with a slightly ominous intensity each time it's repeated. Again before the one-minute mark the band pulls a fantastic trick, here with their brilliant placement of a weeping guitar tone that turns sci-fi fantasy into a '60s romance, ballad style. The tropical "Animals" and its marimbas ease the tone, returning Beyond the Sea to its capricious summer vibes. Flow with it.