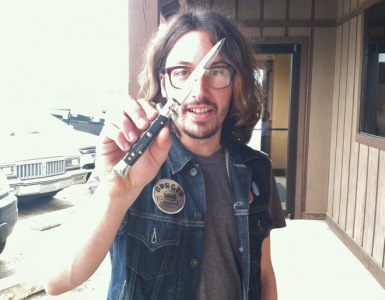 MP3: Gap Dream – 58th St. Fingers
Bedroom-pop stereotypes often involve excruciating minimalism. We get the precise opposite with Gap Dream, the expansive psych-pop project of Cleveland-based Gabe Fulvimar. Sure, these are bedroom recordings, but you'd never guess. Fulvimar's sound is akin to psychedelic guitar-rock with the laid-back vibe of Real Estate and Tame Impala, especially on the swirling "58th St. Fingers" and spaced-out looseness of "Feast of the First Morning". But there's also a DIY garage-rock component reminiscent of Cloud Nothings, where a youthful love for rock heroes of the past is still alive and kicking.
We even get a twangy guitar-ballad with "My Other Man", led by a wavering organ and squealing guitar lead. It immediately reminded me of fellow bedroom-pop stereotype exception Quichenight, who comes strongly recommended as well. The interweaving guitar lines seem melancholic, yet embracing of an antidote concocted of green pastures and all that grows inside.
Grab this excellent album at Gap Dream's Bandcamp, or at Burger Records.