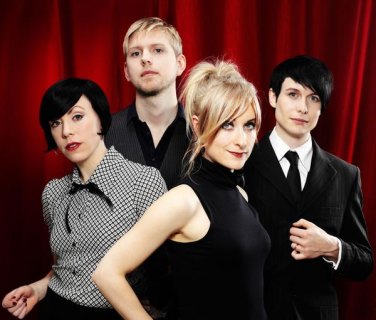 MP3: Paris – Say It
Mixing elements of '80s rock and synth-pop with modern frills has already brought great results this year. Artists like Frankie Rose and Chromatics capture both the feel of a dusty bar jukebox (with Tusk and Slippery When Wet on repeat) and the futuristic neon glimmer of some '80s futuristic thriller like Blade Runner. They both do so in their own way – Chromatics focusing on a more electronic angle – but come away reeking similarly of such nostalgia, which produces an odor to please when presented properly, like here. Drive won't be the only film to capitalize on it.
Swedish rockers Paris capture a similar feel. They've been around for a decade now, and continue to refine their sound, which sits at a crossroads between the jangly rock of Frankie Rose and swift electronic-rock of Chromatics. It results in an exciting sound they claim to be a result of inter-decade influence — '60s pop, '70s disco, '80s synth, and '90s indie-rock; they call their music "groovy pop-disco and bittersweet melancholy with a humorous twist." In this case, it's more practical to emphasize one decade in particular, like "Say It" does.
The median point for Paris' sphere of influence lands somewhere in the late '70s or early '80s, the gripping melodic draw of Fleetwood Mac and The Pretenders alongside hair-metal guitar schematics. The backbone of stunning new track "Say It" is a thumping electro-bass, clearly the most dominant contemporary element. Take that away and you have something that sounds like a relic of the past. Yet despite its veneration for time elapsed, its energy and hook-filled progression makes as strong as any rock track you'll hear this year.