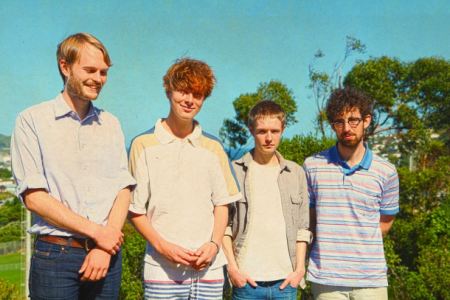 I wrote about The Eversons' tightly infectious art-punk last year, particularly their debut self-titled EP. Its five tracks were full of the vibrancy found in early punk; initial simplicity evolved to intricate wit over guitar-heavy arrangements that took turns alternating lead with singer Mark Turner. Apt comparisons are to names like Art Brut, The Rakes, and others touting wry wit backed by tremolo-heavy riffs and mechanical rhythms in a style akin to bands like Gang of Four, The Fall, and Talking Heads.
The end of the EP pursued more ambitious territory, particularly with "Loser" melding both American and British styles of early '90s alt-rock. You had the snarling Brit-pop of acts like Supergrass, crossed with the sort of harmonious romanticism found on early Weezer records. The chorus, a repeating "you're a loser", was particularly representative of this. Of course The Eversons are from New Zealand, but many of their influences are British and American. Regardless, their sound is an excellent interpretation of rock, punk, and their different eras, including this one.
The Eversons' debut full-length, Summer Feeling, expands upon the punk-oriented direction of its predecessor, though with a sharper take on anthemic alt-rock. It's like the band furthered the style of "Loser" into a more cohesive groundwork. Arguably no track is better indication of this than "Creepy", which is a rollicking blast that tries to separate genuine unrequited love to sadistic stalker-type shit. "Girl did you hear what he just said? Don't let him in your bed. He must've been abused as a child." Don't let your date turn into a Law & Order: SVU episode.
RIYL: Art Brut, The Rakes, The Fall, Talking Heads, Weezer, Devo, The Futureheads, Young Knives, The Cribs, Good Shoes, Little Man Tate, Maximo Park, Reverend and The Makers