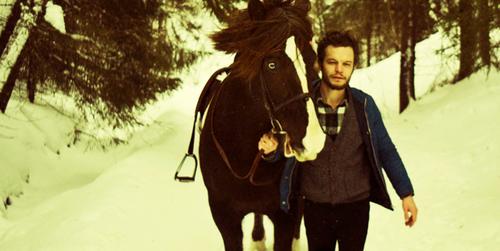 MP3: The Tallest Man On Earth – 1904
Rolling Stone published a feature on The Tallest Man On Earth (Kristian Matsson) that included an MP3 of new track "1904", the first single off his upcoming LP There's No Leaving Now, out June 12th via Secretly Canadian / Dead Oceans.
Matsson recorded the album in Sweden with wife and fellow musician Amanda Bergman. That close-to-home comfort, along with it being the first time Matsson could set his own deadline, resulted in what he calls a patient and more relaxed album. "I live in a beautiful place and I actually have a little studio," he said, while noting that There's No Leaving Now embraces technology more than its bare-bone predecessors. "I wanted to build something that didn't sound like a rock band, but wasn't super minimalistic," Matsson said. "I wanted a sound that had that brittle [quality], that feeling that it might just fall apart."
"1904" is a perky effort by Matsson's standards. Joyous acoustic strumming is constant throughout, with a wriggling twang concluding each extended verse. When he sings "but when the night is young" and raises his vocal pitch to a near whine, it's arguably the most exemplary moment of the stylistic shift on There's No Leaving Now, albeit a slight one. There's less brooding, and more cause for blissful nostalgia and cherishing the little things in life. The warmness within his songwriting remains.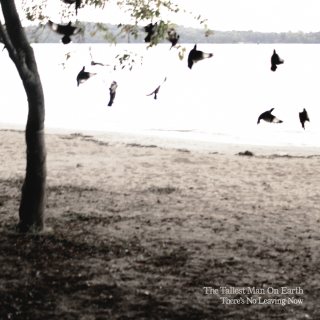 There's No Leaving Now
01 To Just Grow Away
02 Revelation Blues
03 Leading Me Now
04 1904
05 Bright Lanterns
06 There's No Leaving Now
07 Wind and Walls
08 Little Brother
09 Criminals
10 On Every Page
The Tallest Man on Earth 2012 Tour Dates:
05/31 – Stockholm, SE @ Sodra Teatern
06/01 – Stockholm, SE @ Sodra Teatern
06/03 – Gothenburg, SE @ Pustervik
06/10 – Boulder, CO @ Boulder Theater eTown Broadcast
06/12 – Los Angeles, CA @ The Wiltern
06/15 – Toronto, ON – Queen Elizabeth Theatre
06/19 – New York, NY @ Town Hall
06/20 – New York, NY @ Town Hall
07/01 – Paddock Wood, UK @ Hop Farm Festival
07/03 – London, UK @ Hackney Empire
07/04 – Amsterdam, NL @ Paradiso
07/06 – Berlin, DE @ Lido
07/07 – Dachau, DE @ Dachauer Musiksommer
07/23 – Nashville, TN @ Mercy Lounge
07/24 – Asheville, NC @ The Orange Peel
07/25 – Saxapahaw, NC @ Haw River Ballroom
07/26 – Washington, DC @ 930 Club
07/28 – Danbury, CT @ Heirloom Arts Theatre
07/29 – Newport, RI @ Newport Folk Festival
07/30 – Philadelphia, PA @ Union Transfer
08/01 – Pittsburgh PA @ Hazlett Theatre
08/02 – Columbus, OH @ Wexner Center
08/04 – Chicago, IL @ Lollapalooza
08/05 – Milwaukee, WI @ Pabst Theater
08/06 – Minneapolis, MN @ First Avenue
08/17 – Hasselt, Belgium @ Pukkelpop
08/18 – Wales, UK @ Green Man Festival
10/04 – Madrid, ES @ Joy Slava
10/05 – Barcelona, ES @ Casino de l'Aliancia
10/08 – Zurich, CH @ Klaufleuten
10/09 – Torino, IT @ Spazio 211
10/10 – Roma, IT @ Chiesa Evangelica Metodista
10/11 – Ravenna, IT @ Almagia
10/12 – Brescia , IT @ Foyer Teatro Grande
10/14 – Vienna , AT @ WUK
10/15 – Berlin, DE @ Helmathanfen
10/17 – Hamburg, DE @ Kampnagel
10/18 – Cologne, DE @ Live Music Hall
10/19 – Zwolle, NL @ Theater Odeon de Spiegel
10/20 – Utrecht, NL @ MC Vredenburg
10/23 – Bristol, UK @ Colston Hall
10/24 – Dublin, IE @ Vicar Street
10/25 – Belfast, IE @ Mandela Hall
10/27 – Edinburgh, UK @ Picturehouse
10/28 – Manchester, UK @ The Ritz
10/29 – Brighton, UK @ St. Bartholmew Church