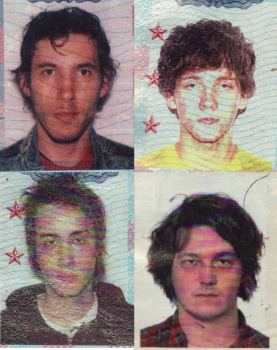 MP3: The Virgins – "Venus in Chains"
The Virgins released a new track called "Venus in Chains", their first official release in nearly four years. Released in partnership with the Glassine Box label as a one-off special, the track has some tightly constructed '80s power-pop vibes. The scratchy guitar riffs and concise rhythmic fixings, along with Donald Cumming's sly vocals, are reminiscent of The Cars, specifically during the chorus. As Cumming details his fantasy women, his suffragette sister, there's a longing and nostalgic vibe — like something you'd hear on a late '80s adolescent comedy. The bridge mid-way through – followed by Cars-like lines like "She's a tiger, an easy rider" – keeps listeners superbly entertained.
The Virgins have been on a hiatus of sorts since their self-titled debuts, an EP in 2007 and full-length in 2008. "Rich Girls" was their most famous track, which you may remember being featured in the past. Unlike most buzz bands, who fade out of the picture after a sub-par outing, The Virgins' only reason for their lack of visibility the past few years has been, simply, a lack of releases. But now they have this release, along with an upcoming performance at the Mercury Lounge on May 26th, the release day for the "Venus in Chains" single.
I took some video of two new songs, found below, which the band performed live at the after-party for Jesse Frohman's Kurt Cobain exhibit last month. They also released a new studio recording, "Island Girl". It's more sparse and toned-down than most of the efforts, but certainly a refreshing change of pace. The other two efforts, one of which is "Slave to You" and included on the Venus in Chains 7″ single, are more in line with their past material. Hopefully a new full-length is on its way soon.