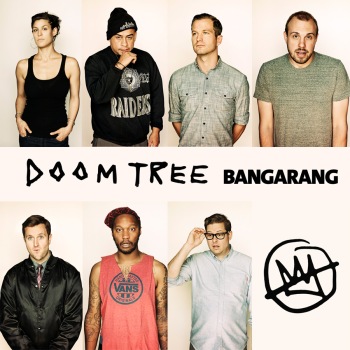 MP3: Doomtree – "Fresh New Trash"
MP3: Doomtree – "Bangarang"
Doomtree have been around for over a decade, but it's fair to say that their accessible rap sound remains vastly underrated. This is music that will appeal to long-time fans of the genre, and of more accessible modern independent music as well.
Despite the fact that this dedicated seven-piece collective hailing from Minneapolis, Minnesota have been honing their craft for over a decade, they have not yet been able to break into the UK and European charts. Finally, with single "Bangarang" (which recalls the greatness of something like 2008's "Game Over"), that wait may be over. The track is a defiant and uplifting dose of anthemic rap that works the ears like something Tupac or Tricky might've done if he had the consistent help of a group like the Red Hot Chilli Peppers. Fantastic stuff.
What's funny is that the other track on the b-side to the "Bangarang" single is a gem. In my opinion, it's the best thing this band has ever released. "Fresh New Trash" features all their trademark soothing trip-hop vocals contrasting neatly with cutting electronics and a strongly optimistic message about conquering life, and taking it for all that it's worth. Solid work, boys.