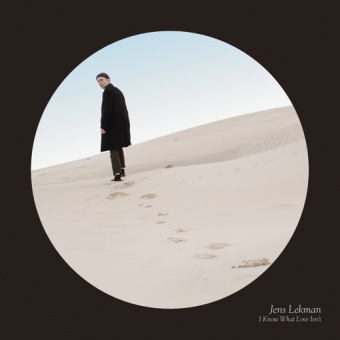 MP3: Jens Lekman – Erica America
Swedish pop songwriter Jens Lekman will release his first full-length in five years on September 4th via Secretly Canadian (Sept 3 UK/EU, Sept 3 on Service in Scandinavia). The follow-up to 2007's superb Night Falls Over Kortedala, I Know What Love Isn't was born out of a break-up — which Lekman initially didn't view as worthwhile to write about. But for a man able to turn late night couch-surfing into gripping lyrical poetry, I doubt he had issues tackling this topic.
Secretly Canadian describes the new album's sound: "Musically, I Know What Love Isn't chooses an economic route. From the vast palette he created for Kortedala, he's only chosen a few somber colors this time around. There are strings but not a string section, an upright piano and not a grand, a single saxophone and gracenotes from a flute. The songs are lighter, almost aerodynamic."
"I wanted the songs to take off almost unnoticeably, where the chorus is separated from the verse only through a small detail like a tambourine or a harmony," Lekman explains. "Like when you're in an airplane taking off and you look out the window and realize you're already in the air."
The second track on the album, "Erica America", can be heard above. Lekman had this to say about the track:  "I thought of the Friday nights when I'd be cruising up and down the street with my best friend in her old crappy Holden, talking about getting married to get me into the country. The idea was so appealing, that we would build this constructed relationship around a purpose rather than some vague feeling that could change at anytime. But in the end, the sham marriage is much too great a story to be kept secret. At least when you make a living from telling stories."
The song features a lovely duet with fleeting and exotic keys, not to mention a snazzy jazz solo in the final minute. Another solid effort from Jens.
TRACKS:
Every Little Hair Knows Your Name
Erica America
Become Someone Else's
She Just Don't Want To Be With You Anymore
Some Dandruff On Your Shoulder
I Want A Pair Of Cowboy Boots
The World Moves On
The End Of The World Is Bigger Than Love
I Know What Love Isn't
Every Little Hair Knows Your Name
TOUR DATES:
07/28/12 – Castelbasso, IT – Soundlabs Festival
09/10/12 – Helsinki, FI – Tavastia
09/11/12 – Århus, DK – Train
09/12/12 – Copenhagen, DK – Vega
09/13/12 – Oslo, NO – Rockefeller
09/14/12 – Malmö, SE – KB
09/15/12 – Gothenburg, SE – Pustervik
09/17/12 – Stockholm, SE – Dramaten
09/19/12 – Manchester, UK – Ruby Lounge
09/20/12 – London, UK – Hackney Empire
09/21/12 – Brighton, UK – The Haunt
09/23/12 – Paris, FR – Gaité Lyrique
09/24/12 – Strasbourg, FR – La Laiterie
09/25/12 – Utrecht, NL – Tivoli de Helling
09/26/12 – Berlin, DE – Postbahnhof