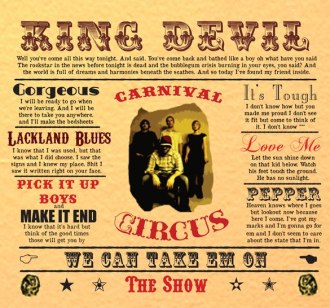 MP3: King Devil – Pepper
King Devil is essentially a side project of the brilliant and vastly underrated Klum. I featured their fantastic album, We Carelessly Turned Amazingly Into Nothing, a few years ago, and it remains required listening. King Devil is led by Klum frontman Joe Fraley, and also includes fellow Klum members Brock Flores and Aaron Vishria. Their new, self-titled release is a continuation of Klum's playful pop; like its previous incarnation King Devil show an ability to produce stomping bursts of rock, like on "Pepper" and "It's Tough". But they're equally capable of understated developments led by keys and developing vocal harmonies, like "Circus" and "Love Me".
On "Circus" Fraley assumes a hoarse party voice, much like Man Man's Honus Honus, over sonorous keys and playful percussion; it's the type of backing you'd expect to hear on a carousel. The following track, "Gorgeous", continues the circus-like feel — though its creaky tweaks remind more of scary clowns than hypnotic carousels. The angelic lead from Melissa Bell helps alleviate any fears in that regard.
But in terms of getting a listener hooked, no track does it better than the powerful "Pepper". An initial likeness to Dave Matthews is complementary in this case, though when sampling and backing vocals place a cue for Fraley's to unleash a more voracious delivery it sounds like Klum and no one else. You sense respect for artists like Nick Cave, Tom Waits, Springsteen, and anyone equally capable of mixing audible fury with extraordinary musicianship. It's great to see Klum, or King Devil, back at it.