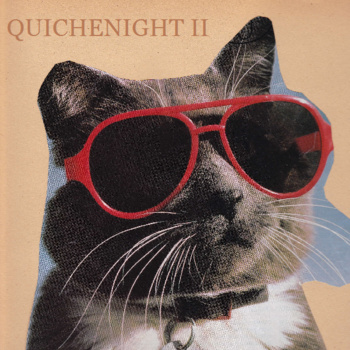 MP3: Quichenight – Rock and Roll Thing
Brett Rosenberg's debut, Quichenight I, revealed a songwriter who adored vintage, no-frills garage-rock — particularly the sort with soaring guitars and heavy doses of reverb, which made his Marc Bolan-inspired vocals sound even more like a lost relic. Standouts like "The Sober Ones" and "L.A. Time" best represented his knack for hooks, with the latter taking a more unassuming route with a gentle organ and slight guitar twangs. "The Sober Ones", like most of his material,  projects an excitably drugged-out vintage guitar-rock sound. As Daniel Levine wrote, "…the guitars stab with each strum, punctuating the nasally angst of Rosenberg's struggle with a sober society which he doesn't take part in." I was sober, she was blasted," he sings at one point… defining perhaps the largest division of appropriate mental states.
Rosenberg is releasing the second Quichenight album, Quichenight II, on July 12th — and to celebrate has released two no-budget videos for "Rock and Roll Thing" and "Keep On". Above is the MP3 premiere of "Rock and Roll Thing", a continuation of his explosive throwback garage-rock sound. A distorted guitar with a buzzing amp kicks it off, with more polish being evident as Rosenberg's vocals kick in. The vocal mix places an emphasis on reverb and melody, as the hectic guitar swipes form a contrast reminiscent of great '60s/'70s garage acts like We All Together, Small Faces, and The Action. It's one of his best efforts to date — and after hearing Quichenight II in its entirety, it's quickly becoming one of my favorite releases of the year. Expect a review of it next month. In the meantime, enjoy "Rock and Roll Thing".
Official Site / Facebook / BUY