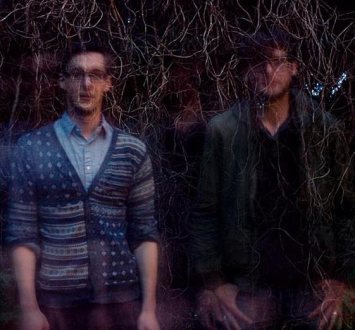 Moscow Youth Cult make delightful sounds that mix electronic and progressive sounds; it's all quite lovely, and definitely worth a good listen.
The most charming thing about this band is that they take their primary inspiration from old VHS B-movies and use this most retro of mediums to create stunningly intricate visuals for their quality, evocative live show. Check out the video below for "Iris" and get the proof; it's massively cool, and very calm. This is the sound to a rainy British summer, yet one you're content with. The visuals show a journey through space and time, interspersed with clips and sounds from long-forgotten movies. It feels like a heavy-duty weekend on a ton of drugs, in the nicest way possible.
The two-piece act is lovingly comprised of Jon Dix and Dan O'Donnell-Smith, who share vocals and synth duties. Having seen these dudes on stage at Queen of Hoxton, I was captivated. With them on stage is an '80s portable TV and VHS showing trippy, hand-crafted visuals that are also projected onto the screen behind them – it's not quite Radiohead or Gary Numan in terms of impact, but it's on the way.
Their sound has been described as "techtronica", occasionally straying towards rave but in a sort of sophisticated way (trust me, it's okay). Alright, perhaps you'd tag it "sophisticated rave." Sophisto-rave? These days, it could be a genre. Anyway, the intelligence comes within the themes and the lyrics. The words are mysterious surrounded in mysticism; the pair are digital warriors, with a story and all.
They've hooked my interest, and there's likely something to wet your musical palette here.