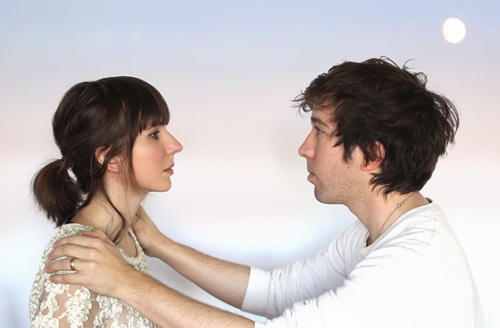 MP3: The Last Names – "The Dirt"
Bishop Allen's EP project in 2006 found the Brooklyn-based group releaasing a new EP every month of the year. Usually quality is sacrificed for such frequency, but not on those EPs. The project was a testament to the band's work ethic as well as their love for songwriting, represented by the project's inception — when the duo of Justin Rice and Christian Rudder found an abandoned piano outside and brought it into their studio. Magic happened from there.
Naturally they have both dabbled in a few side projects, with Rice's main focus at the moment being The Last Names, a collaborative project with his wife Darbie Nowatka. They seem to be similarly restless; the duo are releasing a cover song every week throughout the year. These range from interpretations of Dire Straits ("So Far Away") to The Buzzcocks ("Everybody's Happy Nowadays"). Check it out on their Tumblr or Soundcloud.
Perhaps more interestingly, their full-length debut Wilderness is a superb continuation of sharp melodic songwriting. On the vocal front, it's a fairly proportionate release, with Nowatka's vocals being a slightly stronger presence throughout. While hardly limited to the style, she often takes the delicately beautiful ballads, while her husband takes on swifter pop/rock with efforts like or the jangly "Last One Standing", where they alternate leads. Nowatka's lush voice makes everything seem alright, as shown via her hushed delivery on the sweeping dream-pop of "Dead Reckoning", the twangy beach-vibe "Summer's Over", and the "So Far Away" cover. My favorite track on the album, "The Dirt", is another duet with Nowatka's vocals up front. "I was buried in the muck that was left after the flood," she sings after floating and gauzy keys provide an uplifting interlude. It's a suavely infectious effort, one of many on Wilderness.

MP3: The Last Names – "Summer's Over"
Tumblr / Soundcloud / Bandcamp