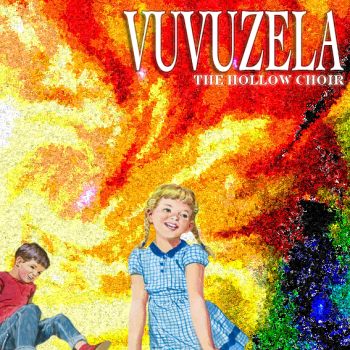 MP3: Vuvuzela – "Rings and Things"
No, this has nothing to do with the annoying instruments made famous by the 2010 World Cup.
For those familiar with New York rockers Kiss Kiss, frontman Josh Benash has his fingerprints all over the work of Vuvuzela. Fans accustomed to Kiss Kiss' high-energy rock ballads, which often interchanged swift metal-inspired guitar riffs with electric violin intensity, should regard Vuvuzela as a natural progression. Their tunes are even more theatrical and polished, made better by Stephanie Babirak's operatic vocals and unique harp playing. She provides a presence similar to Dresden Dolls' Amanda Palmer, her voice varying from soft-spoken balladry to unbridled quivering intensity. The comparison is especially apparent when a flurry of keys dash under her voice, like the carnival-like piano bridge just past the one-minute mark; it sounds like a carousel on overdrive. As Benash's screaming vocals lead the monstrous build-up, Babirak sings an enchanting melody that conjures images of a Rockettes kick line. The track ends with a delicate harp mimicking a serene fairy song, making it all the better; at this point in the track this swift variation becomes expected.
Vuvuzela gripping theatrical-rock with clever structural shifts reminiscent of Queen and Bryan Scary. The quartet's slogan appears to be "Chamber Music for The Aching Rockstar", an fitting title for a fun ride like "Rings and Things", a highlight off their upcoming album The Hollow Choir, out October 23rd.