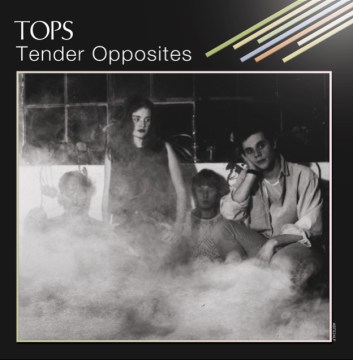 MP3: TOPS – "Easy Friends"
POPS are a retro-minded pop group from Montreal, one I found courtesy of Hype Machine's nifty CMJ aggregation. They'll charm CMJ audiences with a sound rooted nicely in late '80s new-wave, led by illuminated guitar riffs and washes of synth. Jane Penny has a high-pitched, chirpy voice only slighter deeper than Satomi Matsuzaki, but unlike Deerhoof's energetic experimentation Penny guides POPS over conventional song structures with a highly contagious appeal. "She's So Bad" tout '80s-inspired synth whispers and subdued bass accompanied by crisp guitar licks; both this instrumental backing and the combined vocal harmonies remind of Ariel Pink, specifically tracks like "L'estat". The vocals sound almost cartoon-ish with the exaggerated pitches, but it works. The quicker pace during the final bridge is somewhat reminiscent of fellow Arbutus member Grimes, and her tendency of infusing wordless vocals into her colorful compositions.
"She's So Bad" and "Easy Friends" are both off POPS' debut album, Tender Opposites. Penny's vocals on the latter take a safer and softer route during the verses. The chorus is a calming that ends with a declarative "nobody's waiting for you" that gives way to an Asian-inspired key melody. The mid-track presents a rousing build-up where her vocals show a streak of ferocity, much like how Paddy McAloon's vocals alternate wildly in intensity on Prefab Sprout songs like "Johnny Johnny" or "When Love Breaks Down". How POPS present their love for rock and new-wave with an assortment of guitars, synths, and clearly melodic vocals, comparisons to Prefab Sprout in general aren't far off. And for a debut album like Tender Opposites, that's a mighty fine compliment.