I was thrilled to finally see Jens Lekman, the Swedish songwriter whose folk-pop reaches witty and humorous heights even in its somber moments. His ingeniously melodic delivery and self-deprecating romantic swoon have made Jonathan Richman comparisons rampant, but Jens is a songwriter who is difficult to compare — as he proves on his albums and, as I learned recently, live.
Jens is renowned for his very intimate shows, and his tendency to play at non-venues like house parties and backyard BBQs. His casual approach to fan relationships suggests a lack of pretension that's sorely missing from many touring acts these days. A few days prior to his Portland show, Jens' keyboardist was stuck in NYC following the events of Sandy. Instead of canceling the show or going on half-assed, he asked fans on Facebook and Twitter if anyone would be willing to drive the pianist from NYC to Boston, so he could catch a flight to the Northwest. In return, Jens promised compensation and – most excitedly – a song that he will write about the driver(s). A fan was kind enough to reply, and the keyboardist arrived safely for the rest of the tour thanks to her. This is the sort of thing that makes it even easier to love Jens Lekman's music. Since he sings often about failed romantic escapades, the subtle beauties of life, and other universally receptive topics, his almost conversational lyrical style becomes even more effective; it feels like a respected friend sharing fascinating life stories over a few drinks at 3AM. With some beautiful music aided by guitars, strings, and twinkles, of course.
Moving onto the actual performance, Jens played host to an enthusiastic yet polite audience with a wide range of ages. In addition to several older crowd-goers  a couple enjoyed the show with their napping baby. The venue was formerly a traditional movie theater, so it had first-come first-serve seating — which was certainly different than what I'm accustomed to, seeing most shows up to this point in NYC. But seats didn't restrain the excitement. By the show's end, when opener Taken By Trees joined Jens and his fabulous band on stage to cover Nicolette Larson's version of Neil Young's "Lotta Love", the audience stood and walked toward the stage, breaking out in a fun-loving dance. Everyone seemed to be in bliss. Following a show that included career-spanning highlights like "Having an Argument with Myself", "Become Someone Else's", and personal favorite "Black Cab", there was no reason not to dance with jubilant glee. Add to the mix a phenomenal performance of an unreleased track, "Golden Key", and the show was a complete success, with a great atmosphere. I took a video of the track above. Enjoy!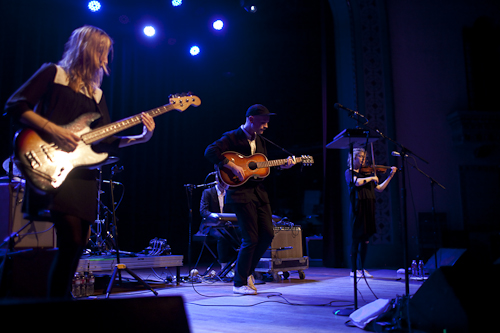 Photo courtesy of Minh Tran (Portland Mercury)