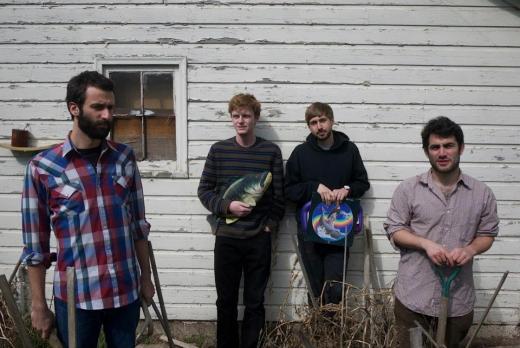 MP3: Carroll – "Sticks"
"Sticks" is the first single off Carroll's debut EP Needs, out sometime this winter. The Minnesota-based four-piece are relatively new; the pleasant "Sticks" is their only studio effort online. Live performances of "Drive Slow" and a cover of Frank Ocean's "Thinking About You" are also available, but "Sticks" is our first polished look at the band.
Dreamy keyboards quickly give way to crisp percussion and jangly guitars on "Sticks", the drums resembling Mick Fleetwood's no-nonsense and unobtrusive approach. There are dabs of '80s jangle-pop within the drums and dazing guitars, and the obligatory Fleetwood Mac appreciation is there throughout. Still, Brian Hurlow's nasally and emotive vocals remind more of The Veils' Finn Andrews and his theatrical, hook-laden rock. Carroll are more subdued and rooted in lush shoegaze and jangle-pop production tendencies, but not to an overbearing extent. "Sticks" is stylistically straightforward, but a fantastic effort nonetheless. It somehow sounds both refreshing and familiar. It's rare to come across that combination, but this is one of those groups that seamlessly balances nostalgic influences with a contemporary edge. It's a job well done.
By the way, their cover of "Thinking About You" was performed alongside their friend and collaborator, Photocomfort (Justine Bowe). Check out an excellent track of hers, "My Mistake", below: