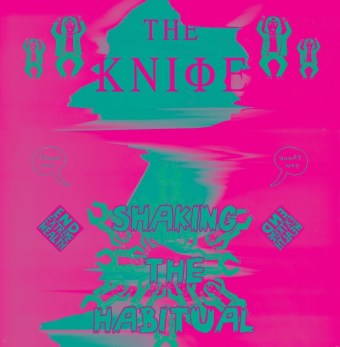 The Knife's influence on contemporary electronica is a given, even as only six years have passed since the release of Silent Shout, where oddball synth-pop was led by playful vocal range fluctuations and icily atmospheric melodies. As artists like Grimes assert the present popularity of idiosyncratic synth-laden sounds, which can be more accessible than initially thought, it's worth looking back on Silent Shout as a precursor to an avant-garde synth-pop movement heavy on both infectious accessibility and eerily remarkable production. Details on The Knife's upcoming album Shaking the Habitual  were scarce prior to this week – but even then listeners were confident that these Swedish siblings will churn out something highly original and one-of-a-kind.
"Full of Fire" is our first glimpse at Shaking the Habitual, an album shaking out to be an epic with thirteen tracks that stretch nearly 100 minutes. Granted the version above isn't the best quality imaginable, but it's certainly listenable. Drums stumble like dominoes over a whirring synth lead as Karin Elisabeth Dreijer sings climactically; an explosion of sorts seems imminent, especially as the synths heighten in pitch and animal-like sound effects consume at the three-minute mark. It sounds half-horror film and nature expedition. The track's second half is more percussive, with even weirder and distorted vocal layering and buzzing synth collisions. It's hard to believe the excellent, nine-minute "Full of Fire" is merely 10% of the album. Let's hope it's an indicator for one of the year's potential best.
UPDATE: The audio stream has been replaced by the official video, which you can view above. Enjoy!
Shaking the Habitual tracklisting:
01 A Tooth for an Eye 6:04
02 Full of Fire 9:17
03 A Cherry on Top 8:43
04 Without You My Life Would Be Boring 5:14
05 Wrap Your Arms Around Me 4:36
06 Crake 0:55
07 Old Dreams Waiting to Be Realized 19:22
08 Raging Lung 9:58
09 Networking 6:42
10 Oryx 0:37
11 Stay Out Here 10:42
12 Fracking Fluid Injection 9:54
13 Ready to Lose 4:36