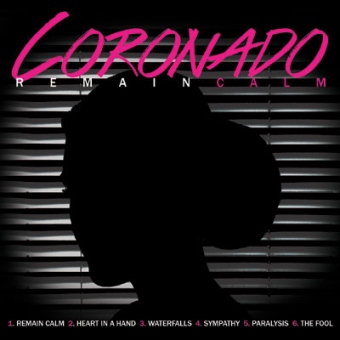 As their neon-tinged design may suggest, stylish synth-pop quartet Coronado play with a danceable past steeped in funk, disco, and dance. It results in an exceptionally polished sound, one of the '80s star-struck synth-pop variety that producers like Thomas Troelsen, Tesla Boy, and Ford & Lopatin so wonderfully emulate. It's a bit shocking to me that Coronado haven't taken off yet, at least within their own niche. The fact that their new EP, Remain Calm, is available for free should help change that. There's no reason whatsoever to not download it.
Coronado's story began in 2007, when frontman Carlos Coronado began releasing solo material in Monterrey, Mexico. A move to Montreal the next year encouraged Coronado to expand his stylistic arsenal, or as much as he could within his DIY bedroom production setup. He moved again, to Toronto, in 2011 and released his first EP under the name Coronado. The actual band formed in the summer of 2012, when Lisa Lorenz, Luke Boehler and Amy Morris joined the team. "Coronado's music is heavily influenced by '70s disco, '80s synth pop and '90s dance music but rather than being a tribute to those influences; their music is a re-interpretation of them," their bio reads. "While the project remains a solo enterprise in terms of composition and song writing, the live versions of the songs are the product of a true group effort with the rest of the band making the songs their own."
The first two tracks on Remain Calm immediately establishes the quartet as a nostalgia-driven force to be reckoned with. The self-titled track plays on twangy guitar bursts and reflective synth stutters. A suave and bouncy keyboard melody serves as the backbone as Coronado delivers his whimsically melodic voice, which perks up with Lorenz's backing as the stabs of synth become more prominent. The final line of the chorus – "just stay calm" – plays ironically as the hectic arrangement concludes, just before funk-tinged guitar scratches comprise the final minute or so. It's a fantastic opener, but I'm even more fond of "Heart in a Hand". It's a sparkling wonder, propelled by an insanely addictive hook where reverbed keys and a disco-tinged bass line play over Coronado's gleeful vocals. It's a track that makes you feel good, as most authentic '80s synth-pop revivals should. Grab Remain Calm now.