Parking between the dark hidden recesses of famous gravestones and Hollywood hipsters, I couldn't help but notice how the glow from my headlights revealed a familiar name: Fairbanks Lawn.
"Whoa, is this where they buried Douglas Fairbanks?" I said to myself, as I attempted to rationalize some swashbuckling purpose behind parking in the middle of a cemetery to see a rock 'n' roll show. Walking briskly towards the Masonic Lodge at the Hollywood Forever Cemetery, my purpose became clearer as the lights from the second floor illuminated the gravestones and revealed the endpoint of my journey: to receive a musical sermon from the flaxen-haired angel of rock 'n' roll known simply as Lissie.
Once inside, I found myself standing beneath a reverse pentagram and wrought iron Gothic-looking chandelier. It all felt very occult. Maybe it was the lack of air-conditioning, or the shot of tequila I shared with myself in the hallway, but the ambiance at the Masonic Lodge reminded me of what Frodo must have felt like deep inside the fiery pits of Mount Doom, Which is probably exactly what Lissie thought before taking stage. After all, this is the same girl who watches HBO's Game of Thrones and reads Murakami novels.
As you can imagine, I was feeling the need for some genuine soul music at this point. Seeking a musical revival to realign my chakras, the roar of the sold out crowd signaled my saving grace. Discussing her Broadway musical ambitions (sort of), what Lissie told me following the performance encapsulated the vibe of the entire evening:  "Playing the narrator in Joseph and the Amazing Technicolor Dreamcoat would be rad!" She was in the mood; it was the perfect night for a spiritual rock 'n' revival in the church of Lissie!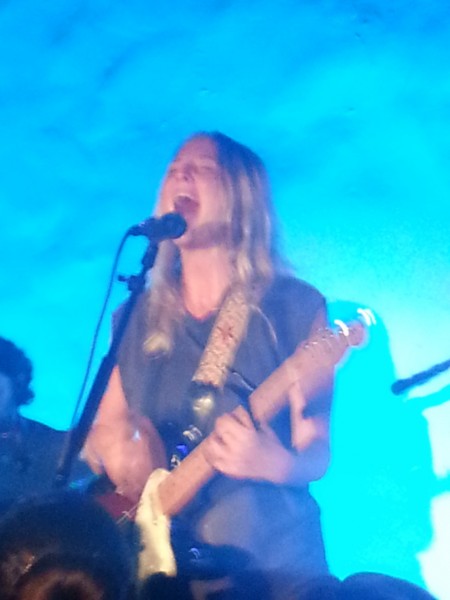 Wearing a Dreamcoat-inspired sequin jacket, Lissie pushed through the crowd with her trademark Midwestern smile. She was then handed her sunburst brown telecaster, the same way a preacher is handed a bible. But there was no need for a leap of faith, because Lissie, unlike so-called 'faith healers,' is the genuine article. Her band, a Fleetwood Mac-sounding outfit that includes a bassist, Lewis Keller—who also moonlights as a drummer and tambourine-wielding madman—hovered around Lissie as she strummed the chords to a new song to open her set. "Waiting for the highway… don't quit 'cuz you never get old," she sang, lyrics laden with Buddhist wisdom from an artist who has grown immeasurably since her auspicious musical debut in 2009. The bass-driven tune is now added to the growing list of songs Lissie has debuted on the road as she prepares to launch her new album in September. "Love in the City" and "Shameless", only one of which she managed to include in tonight's set (you guessed it, "Shameless"), are solid tracks to headline a much-anticipated release.
Fans can expect more outspoken and politically conscious music from Lissie on the new album. "I wrote a song about mountaintop removal that's on the next album…like a metaphor for tearing down greatness and majesty." While it's too early to tell, Lissie's new album seems to be heading towards a more personal and outspoken direction. "I think people are just starting to get to know me really." And while "Shameless" is the first single, which was showcased tonight, "Lost in the City" is already gaining favor with Lissie's fans for its melancholic lyrics, pop arrangements, and thrusting chorus. "When I was in L.A., chasing a guy or whatever, it was like I was afraid to miss out. I didn't like the way that made me feel. It felt dark and sad and lonely," Lissie described the story behind "Lost in the City", following a performance that was anything but "sad and lonely."
Following new material with a 'classic', Lizzie answered our prayers with a foot-pounding rendition of "Little Lovin'", which shook the wooden pillars of the Masonic Lodge, bringing everyone in the room within reaching distance of the pearly gates. But the highlight of the evening came halfway through her set, when Lizzie—sweat-drenched and channeling a '90s alt-rock vixen with her sleeveless tee and boots—turned down the lights and told a story: "This is sort of the b-side to 'Shameless'. This is a song I wrote six years ago when I felt like I lost my mind. I wrote it when I was in Nashville, and I just found it on my iPod a few weeks ago." The song, never included in any of her previous releases, is arguably Lizzie's darkest and most revealing piece. With her raspy, a-little-bit Stevie Nicks vocals, which she warmed up between songs, Lissie surprised the audience with a solo singer-songwriter moment where lyrics like "I feel like I have lost my mind," blended perfectly with a lonely spotlight that shed light on the soul of a musician that has the potential to bring American audiences to their knees, begging for more.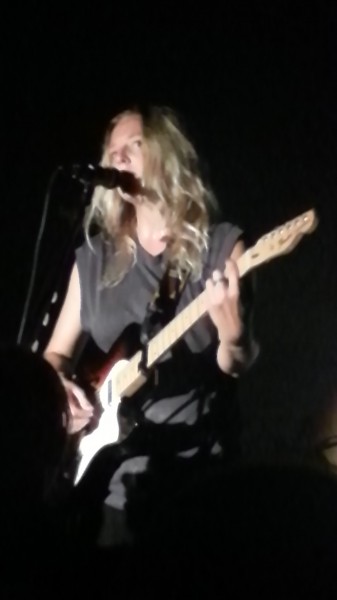 "She's bigger in the UK," said the photographer I shared a piece of the stage with. While I disagreed with the exact meaning of 'bigger', it also seems very apparent that Lissie is not very interested in pop stardom in the form of sacrificing integrity for more Twitter followers. "It's a real shame that the mainstream culture of the 'arts' is about so much besides the point of moving people and helping them sort out their emotions," Lissie told me, while describing the meaning behind "Shameless". For Lissie, her inspiration  is about sorting out the affairs of the heart through music. The untitled track stole the show and set the stage for a crescendo that included a shot of tequila and Lizzie's now trademark cover of Kid Cudi's "Pursuit of Happiness".And don't expect Lissie to cover just anything, but if you have taken to Twitter requesting her to cover you favorite karaoke tune—you just might get lucky one day, "I like being able to just cover what I'm moved to, but I could be open to taking requests for sure!" Hoping for a cover of "House of the Rising Sun", I made the bold request and gained insight into Lissie's humble musical origins: "That's crazy because 'House of the Rising Sun' was the first song I learned to play! That was my go to! How funny!"
Afterwards, Lizzie—evoking the spirit of a rough-and-tumble 70s rock star—walked back through to crowd and disappeared into wherever rock stars go after exercising their daemons on stage. Returning to my car, I felt as if I had just witnessed as an artist, Lissie, raising the dead with some rock 'n' roll voodoo from the City of Angels.
Lissie continues her tour across the U.S. and Europe.  But really, she just wants to see the world, be an artist, and maybe do some shopping, "I'd love to spend a month in Paris." But first, it's off to Portlandia for forests and Bigfoot.