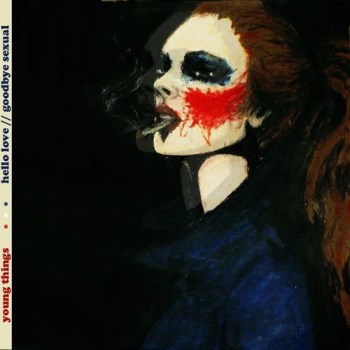 MP3: Young Things – "Sore Eyes"
"Sore Eyes" is a moody highlight from NYC-based rockers Young Things, who show their city's influence on "Sore Eyes" and throughout their superb upcoming album,  
Hello Love // Goodbye Sexual
, out June 4th in the US.  "New York City is absolutely fundamental to this band," lead guitarist Josh Hammer told Blogcritics, commenting that vocalist/rhythm guitarist Mike Fleizach, bassist Neil Kumar, and drummer Jon LaPrade all call NYC home. "The kind of vibe and the energy is something that we could not experience anywhere else." City settings pop up throughout the album. "Sore Eyes" rides on a tranquil bass line, referencing loneliness while walking down Delancey Street after a break-up. Then there's "Talking Too Loud", which references the changing aspects of the Lower East Side, and many NYC neighborhoods in general.
Listeners should keep an eye out for Young Things' Hello Love // Goodbye Sexual in June. Vintage rock 'n' roll collides with new innovations for a constantly engaging sound, one marked by a love for their native NYC's energy. Young Things fit well within the city's hook-filled garage-rock scene.