Posted
May 7, 2013 by Mike Mineo
in Tracks
Siberian Islands – "Tunguska"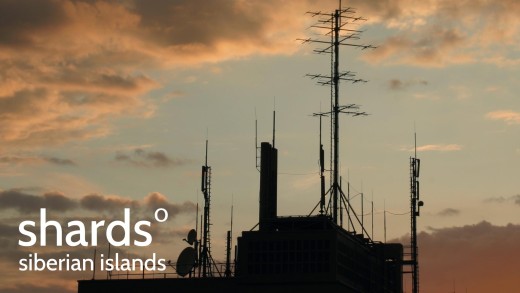 Siberian Islands are a German duo that produce a richly nostalgic electronic sound, a meshing of "ambient, 8-bit tunes, breakbeat and the loads of real instruments." Their new album, Shards°, is Siberian Islands' first release since their Equal EP in 2009. In that time they have maintained an aroma of sleek nostalgia, situated somewhere between chilly industrialized synth-pop, while branching off into a more expansive instrumental repertoire. Gloomily wispy synth pads and concisely evolving melodies remain, but even from the glittery synth opening on first track "Tunguska" there is something different. Electric guitars shred over synth arpeggios, Ratatat style, before hip-hop-inspired percussion creates a wave over fluctuating synthetic melodies. The guitars are continuous throughout, playing in energetic '80s fashion as if it were the signal to action in a martial arts flick.
Second track "Black & Gold" pushes back the guitars and reverts to the traditional synth variety, as a flurry of incoming chiptune-inspired synth leads begin to resemble the soundtrack to some lost Mega Man soundtrack. It's a brightly illuminated effort, one that moves swiftly and without much difficulty. It's ideal prep for the dark "To Break Adrift", which brings back those '80s-inspired guitar lines over a more melancholic synth backbone. Despite the hectic onslaught of synths, it can't help but wonderfully recall the spacious works of electronic-ambient songwriter Susumu Yokota. The tranquil guitar lulls of "Words Can Not Explain" further support this comparison. After all, images like Siberian Islands' factory logo above matches the industrialized sound well. Like one of the many atmospheric efforts in Yokota's repertoire, one of the most fascinating efforts on Shards° is "Emerald Skin", which sports a tranquil call-and-response instrumental structure where an acoustic guitar, popping synth lead, and a murmuring bass present tri-dimensional melodic territory that, with its string-like adornments, manages to sound both ominous and fleeting.
On Shards°, the duo of Jannik and Marc do a commendable job of incorporating oddly vivid nostalgia with sleek guitar-infused modernizing, even if those guitar sections borrowing lovingly from various aspects of the '80s, from Super Nintendo to martial arts flicks. Although it took nearly four years to create, Shards° seems worth the wait.