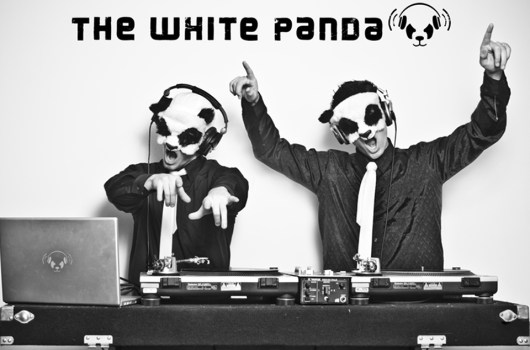 Introduction
Why don't you start out by telling us a little about yourselves, and what you are up to right now.
We're a couple of 25-year-old dudes from Northern California. We both finished up college in 2010 and dove right into our first big tour in the fall of 2010. Right now we just finished up our fifth full length album, entitled Bearly Legal, and are gearing up for a tour in support of that album that starts this Friday in NYC.
Where exactly the name White Panda came from?
The name came from an impromptu brainstorming session long before we knew what this project would become. There's no crazy story behind it; it was just one of the ideas that got tossed around that we thought was catchy and it stuck.
I saw that Dan was a member of Kappa Sigma at USC and you all have played for several fraternities before, but I wanted to ask specifically about FratMusic.com, which was where I personally first heard you,  and how that website contributed to your success.
Yeah, definitely. FratMusic certainly helped expose our music to the college audience which remains one of our strongest followings to date.
New Album
Tell us about the production of the new album, Bearly Legal. Was it any different than your past releases?
We're still working with Ableton Live, the program we started out on years ago. Over time you learn a lot about the software and we're far more versed in it now than ever before. The production on this album is much more technically sound than previous albums and includes a lot of original enhancements on our end: drums, bass, top line synths, etc.
What did you enjoy most about making this album specifically?
Probably the diversity of samples used on it. It's got your top 40, oldies, hip-hop, throwback hits, and more. It's all over the place musically and we love that about it.
I read that Daft Punk was one of your big influences and it was awesome to hear "Lose Yourself to Dance" mashed up on Bearly Legal. Who would you say your biggest influences were for your last album??
It's difficult to pick one influence for a mash-up album. Any individual artist we sample is an influence, but Girl Talk probably more than any of them just as the pioneer of the genre. He's what got us started a long time ago.
What is your favorite song from the new album?
I'll be able to answer this question better in six months when I've separated myself a little bit from the production process, but at the moment it's probably "Radioactive Funeral".
Live Show
I've read about how The White Panda likes to change your live mixes up for each show. Tell us about the music you play at your live shows. Does it depend on the crowd or do you have a specific set in mind prior to the show?
Both. Depending on what kind of show it is (private event, college concert, or ticketed White Panda show) we prepare a certain style and energy. But during the performance itself you really have to read the crowd and try and match their energy and the atmosphere.
How do you guys like the touring life style compared to college life since you guys started touring while in school?
We love it, but it's exhausting. A lot of times we'll have five shows in five days all in different states. The shows themselves are only a couple of hours but the time it takes to set up/clean up and travel from place to place doesn't really allow for any free time to rest.
What about your masks? The old ones were a bit different. I've seen the new LED masks. They are crazy awesome. What was the inspiration?
Our shows are a big party atmosphere, and that requires both an audio and visual element. We're always looking to enhance the experience at our shows and having LED masks seemed like a cool step forward.
Do you guys have a specific memory from being on tour that sticks out over the other?
There are a lot of great moments. To pick just one, maybe the first time I tried crowd-surfing back at UMass in 2011 or so. There were 5,000 or so people there and it was a crazy ride.
Future
In a USA Today interview, you mentioned how The Whita Panda initially started out making more rock-infused music while in high school, and changed to dance/club type music in college. What direction do you see your music going now?
Our tastes are always changing so it's hard to say. Our goal is mostly to keep the mood light and the energy high, while providing people with a style of mix that they've never heard before.
Do you think you'll always do mashups or do you plan to release original content at any point?
We're working hard on our original productions skills and definitely hope to put out some content in the future, just not ready to commit to when quite yet.
Legal Issues
There has been some controversy in the music industry about the legality of mashups recently. Have you guys run into any legal issues?
The only things we'll really have to deal with is files being removed from Mediafire (where we're distributing them for free download) or certain tracks being barred from certain countries on YouTube. For the most part the record labels have bigger things to deal with than other producers sampling their tracks.
Where do you see mashup music going from here?
Tough to say. Most EDM DJs are incorporating mashups into their sets now, so it seems as if they're here to stay. It's a type of music that transcends genres – you can have oldies mashups, hip-hop mashups, EDM mashups, rock mashups, and more. So there's really no limit to their audience.
Miscellaneous
What's your favorite song you've ever put together?
Probably "What You Know About Little Secrets" just because it put us on the map.
What's up with Bambooyah and is there any significance?
What's up with it? We like to use Panda puns in our album titles – so it's a combination of "Bamboo" and "Booyah" which is kind of a high energy party term. Not sure if this is what you meant here or not.
I really dig "Diamond Thrones".  First 'cause it's a great track, and second because I'm a huge Game of Thrones fan. I'd guess The White Panda are as well since you used the intro track in the song.  This begs the question: if you could be a character in the show, who would you be and why?
Haha. Well awhile back I probably would have said Robb Stark but maybe not anymore. I'd probably have to say Daenerys Targaryen. Seems like she's in pretty good shape at the moment.