Posted
August 28, 2013 by Jay Platt
in
Green Man Festival 2013: Review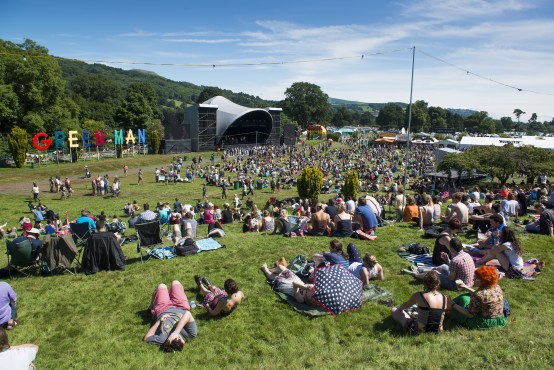 Set at the foot of the Black Mountains in the beautiful Welsh countryside, Green Man Festival is a unique festival of music, comedy, literature, science, academia, and – this year – traditional beers and ciders. The secluded and remote location of the site is absolutely perfect for a festival. City life is immediately forgotten upon arrival, and the few thousand people who attend begin to live completely within the world of The Green Man.
With a strong and stylistically varied line-up of musicians set across four main stages, this year's festival has a lot of potential that must be delivered. Here's my Green Man Festival 2013 review:
Thursday
Thursday night at Green Man is effectively a "warm-up" night; many festival-goers are yet to arrive, and only the Far Out tent is open. By 20:45, the tent is absolutely rammed full of people waiting to see Patti Smith. Although the Far Out tent is the second largest venue, it is still far too small for an artist as respected as the "Godmother of Punk". Consequently, many fans are forced to stand outside, where is is very difficult to hear her. Considering her nickname, Smith plays a surprisingly mellow set with a lack of bass or drums, though this does not stop her punk attitude from seeping through the songs. Highlights include an intimate cover of Eddie Cochran's "Summertime Blues", and of course the almost-compulsory fan favorite, "Because the Night".
Friday
Now in the full swing of festivities, the Mountain Stage (the biggest and central stage) is opened with a set from upcoming band Haiku Salut. One of the traditions of Green Man is to have the main stage opened by the winners of a competition organised by the festival. I asked Haiku Salut to explain how they came to play what they described as an "exciting and ridiculous" slot at the festival:
"We entered the Green Man Rising competition on the Green Man website, and people vote for the bands they want to see. We had to go down to London and play a battle-of-the-bands-type competition, which we were really nervous about, because we thought that maybe the other bands wouldn't be very nice to the other bands, but everybody was lovely! When they pulled out our name we were shocked – we didn't expect it in the slightest."
The trio create an impressive sound, and draw a big crowd into the main arena. They play instrumental music which encompasses a huge range of instrumental styles, ranging from European folk to epic soundscapes to glitchy electronics. The clear bond between the three friends really augments the friendly and communal atmosphere at Green Man. Next up is Peggy Sue, who provide friendly pop-folk tunes embellished with lovely harmonies, perfectly suiting the afternoon atmosphere. This is just one example of the great job the Green Man team do of programming their stages.
Later in the afternoon on the same stage, Julia Holter plays to a very relaxed, and relatively inebriated crowd. Her usually introspective songs are blasted out into the natural amphitheater surrounding the Mountain Stage, resulting in occasionally losing some of their intimacy. Her set would be better suited to the Far Out stage, it seems. There are initially some quite severe sound problems which resolve after twenty minutes, and Holter hits her stride with a spectacular rendition of "Four Gardens", from last year's Ekstasis. I asked her about her experience of Green Man, and she highlighted the friendliness of the crowd, and the "warm and friendly" atmosphere around the site.
Over in the Far Out tent, Parquet Courts provide a refreshing contrast to the primarily mellow acts that have played thus far. Their unique brand of high-octane punk rock works surprisingly well for a mid-afternoon set. This is down to the intimacy of the tent, and intensity of their performance. Their songs are based around drums and bass, with over-driven guitars and shouting vocals adding the punk vibe that gives everyone (band included) an opportunity for some headbanging (something that there definitely is not enough of at Green Man). The songs are all very full on, and unsurprisingly about half an hour into their set, the band seem to lose some of that energy which is what makes them so appealing.
Back on the Mountain Stage, Phosphorescent plays an extremely powerful set of Americana which captivates the arena. When Houck plays "Los Angeles", a highlight from 2010's Here's To Taking It Easy, he turns the song into an extended, soulful guitar jam, which is very well received by fans and newcomers alike. Meanwhile on the Far Out stage, Moon Duo pick up where Parquet Courts left off – heavy! Their motorik-psych pop is perfect for the Far Out tent on a sunny afternoon; this is another example of fantastic programming from the Green Man team. The trio (don't ask) lock into a groove for ten minutes or so and take the tent on a far out journey to space and back fuelled by Ripley Johnson's face-melting guitar skills. And then they do it again. And again. It really doesn't tire, and they play an incredible set that is by far the highlight of the day.
In the evening, Midlake play on the Mountain Stage to an almost full arena. They give us a taste of songs from their new album, which sound, well, like Midlake songs. Their alt-country tunes comfortably fill the field, but lack energy and are actually quite boring. The main stage is closed by Kings of Convenience who do play a set full of energy, and leave fans with smiles on their faces. There have been some great acts today, complemented by brilliant sunshine, but most of the highly-anticipated acts are yet to play.
Saturday
After Friday's heatwave, Saturday's skies are back to the typically Welsh grey. No major downpours, but Glanusk Park is greeted by regular showers. The Slow Show play early afternoon on the main stage, and provide the festival with laid-back, mellow songs to help ease Friday's hangover. According to their press release, the band describe their sound as comparable to Neil Young, Tom Waits and Bob Dylan but claim fellow Northern bands such as Elbow and I Am Kloot echo throughout their music. In reality, the band seem like a cheap imitation of The National (who, incidentally, have a song called "Slow Show"). Baritone vocals sung over slow horns and strings might sound great, but the band lack the basic songwriting skills of The National, and have a very boring rhythm section. At one point, the four band members leave the stage and the frontman plays 'Flowers To Burn' on his own with a guitar. He leaves some guitar effects turned on which clash with his deep vocals resulting in a cringe-worthy sound.
Later on the Walled Garden Stage (the third stage), things are made more interesting by Rozi Plain who plays fun, jangly pop. The catchy and danceable tunes transcend the rain, and Plain's cheery rapport is infectious. The set finishes with ten people on stage (including a baby) holding up colored circular pieces of card. "Why?", you ask? Why not?
A new addition to Green Man for 2013 is the tiny-but-brilliant Green Man Rising stage, which showcases up and coming bands from around the UK, including many of the entrants of the Green Man Rising competition. Early in the evening, local-ish lads Rad Stewart play a set. Their sound is remarkably similar to Stephen Malkmus', but their songs contain typically British wit. They are far more interesting than many of the bands that play just a few hundred meters away on the colossal Mountain Stage. However, that's not to say that all acts playing the main stage of the festival are uninteresting. Low prove this point with their signature drone-driven pop/rock. They emit an extremely powerful sound considering just three musicians are on stage. The lack of treble frequencies suits the slightly ominous weather, and the songs led by Mimi Parker's vocals add a pastoral feel to the set.
By the time Fossil Collective play on the Green Man Rising stage it has started to rain, but this doesn't stop the band from singing catchy melodies over alt-country instrumentation. The super-sweet harmonies created by Dave Fendick and Jonny Hooker are sweetened further by the smell of fresh doughnuts wafting through the garden. It really is a lovely set, despite the rain. I chatted to Dave afterwards, who was extremely pleased to come to Green Man for the first time. He says that it feels amazing to play at here, and it's a special festival because "it's not so big that you completely lose yourself, it's quite intimate but there's a lot to do. It's just a nice vibe".
The Horrors play on the Mountain Stage to a huge crowd later in the evening, but are difficult to engage with. Their boring electro-pop offers no moments of interest, and their set relies solely on hardcore fans in the audience, of which there is a surprisingly large amount. Meanwhile on the Walled Garden stage, Olof Arnolds sings beautiful, solo a cappella folk songs in the vein of The Wicker Man Soundtrack, with a voice not dissimilar to Kate Bush. This kind of act is what Green Man hosts brilliantly – quirky, talented and niche. Later on the same stage, Allah-Las play to a relatively small crowd. Perhaps this is due to the weather combined with time of day; the four-piece play woozy, Nuggets-esque '60s pop which doesn't suit a night-time performance, especially in the rain.
Sunday
Sunday afternoon hits, and the weather is back on form. Blue skies ahoy. Huw M sings lovely folk songs in Welsh on the Walled Garden stage with the refreshing use of a cello and tambourine instead of the usual bass and drum kit rhythm section. His sweet voice sings catchy melodies, and the use of the Welsh language is a lovely salute to the beautiful landscape that Green Man sits in. Over on the Mountain Stage, Fanfarlo play sunny pop music with a slightly psych tinge. The trumpet and violin interact with each other in a way that creates a dreamy vibe perfectly suited to a hazy Sunday afternoon.
From the outset, Sunday was always about the Far Out stage. Mikal Cronin hits us with some extremely energized psych-punk. Despite the loud, screaming guitars, he still provides catchy melodies and ultra-sunny songs. One of his guitar strings breaks mid song, but this only seems to drive him to play harder! The rhythm guitar could do with a volume boost, especially when Cronin launches into an incredible extended wig-out and makes his 12-string scream. Despite this, the set is fantastic and provides a much needed energy boost on a Sunday afternoon. After sound problems cause a major delay, Woods come on 45 minutes later. Their woozy psych-pop fills the Far Out tent, and catchy falsetto vocals interact beautifully with the 12-string guitar. Woods play with such brilliant energy and focus that just doesn't come across on record. They are an incredible live band and perfectly suit Green Man.
On the Walled Garden stage indie hero Darren Hayman plays with a four-piece band. Immediately it's clear that the set would be heavier than usual, and a real contrast to the last few of his albums which are all relatively mellow and quiet. Today he plays with an electric guitar, and his familiar songs are successfully transferred to alt-rock stylings, but still managing to retain their uniquely British charm. The set is closed with a mesmerizing rendition of 'Winter Makes You Want Me More', which today begins with four part harmony and builds into Hayman shouting the refrain whilst the band provide a backing track full of energy, with real focus on the melody of the fiddle interacting with the vocals. The set is incredible, and is a definite highlight of the weekend.
The Far Out stage is still running behind schedule due to Woods' sound problems, and British Sea Power's elaborate set takes longer than expected to assemble. Every mic stand and amplifier is covered in foliage and fairy lights. When the band finally come on half an hour late, they play a set which really does make up for the delays. We are treated to fan favorite after fan favorite, people in giant bear costumes walking around the audience, band members crowd surfing, and guitars being thrown impressively high into the air. British Sea Power are a unique live experience, but this doesn't stop them playing brilliant rock songs. One fan is met by a roar of applause when he screams "WHAT A BAND! WHAT A FUCKING BAND!".
The Far Out stage is closed by a predictably dark set from Swans, who turn down their notoriously loud equipment, presumably due to festival regulations. Despite being turned down, sound created by the two percussionists, Michael Gira's shouts, and merciless guitars is still intense, and many parents with children can be seen hurrying away from the tent midway through the first song. Gira seems to have magical powers and commands his band through the apocalyptic noise-rock voyage. Even when he is not using his microphone or playing guitar, he holds the stage by madly flailing around as relentless sonic blasts fill the tent and beyond. At the end of the set, there is an atmosphere as if everyone here has experienced something special, together as a collective. Perhaps this is a reflection of Green Man. Perhaps this is just Swans being so intense people are glad to have survived the performance. Either way, quite a magical feeling is present when Swans finish playing.
Despite growing from a one-day, 300-capacity event, to a four-day 15,000 capacity event in just ten years, the feeling of independence and community is still strong all weekend. With music varying from a-cappella folk to motorik space-rock to apocalyptic noise, not to mention literature and comedy tents and 99 different ales and ciders to try, Green Man is a truly unique festival. Haiku Salut took the liberty of writing me a haiku to sum up the festival for them:
"Look at the mountains
It's fucking sun shining, yeah?
There's Freddos backstage."