Posted
October 8, 2013 by Mike Mineo
in Tracks
Frog Eyes – "The Country Child"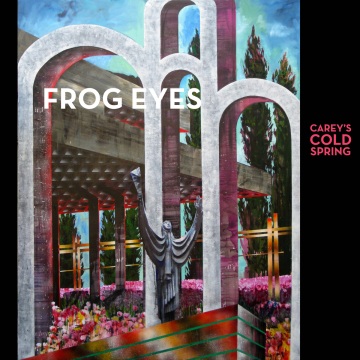 Frog Eyes' new album, Carey's Cold Spring, can now be streamed and purchased on Bandcamp. Despite this good news and the album being great, it comes with bad news from Carey Mercer, the brains behind Frog Eyes. Apparently, he has been diagnosed with throat cancer:
Two days after I green-lit the final mixes of the record, I got a call from a doctor who told me that I have throat cancer. I've been really hesitant about including this, going back and forth, but I have decided to include this information: illness is nothing to be ashamed of, but it is a big thing, a thing that impacts a life and forces changes on the way, for example, a songwriter releases her or his product. So I release this from a place where it's hard to say if I will be on the road to promote it. This is why I have chosen to control the release myself and put it out through the limited channels available to me right now.
Also having recently lost his father, Mercer travels through some dark terrain on Carey's Cold Spring. The album still sounds like vintage Frog Eyes, though, with Mercer's signature excitably maniacal vocal delivery crossing with a flurry of melodic guitar arrangements, which range from the punchy ("The Country Child") to beautifully melancholic ("Don't Give Up Your Dreams"). Be sure to check out Carey's Cold Spring… it's a good one. I'll end on a positive note from Mercer:
I am supposed to get better. I have the kind of cancer you fight. I am optimistic about touring in 2014, but I can't be concrete.