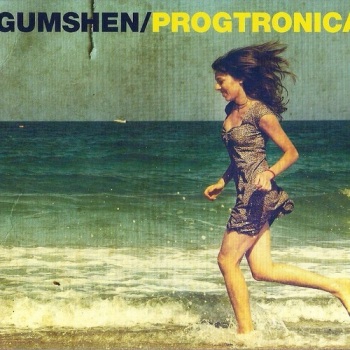 The wide-ranging "Bell Ringer" is an enjoyable seven-minute microcosm of Gumshen, a Seattle-based group that incorporates thumping electronica and several variations of rock music, ranging from classic pysch-rock to recent pop. Citing diverse influences from Pink Floyd to Phoenix, the four-piece has been churning out releases since 2007, in addition to racking up acclaim for live performances at events such as Seattle Hempfest and Bite of Seattle.
The opening track off their most recent album Progtronica, "Bell Ringer" provides a very interesting contrast between intensely robotic electro-rock and soaring effervescent pop. The more electronic side shows at first, with a club-ready vocal line over a thumping bass kick and assorted synth gargles. Depeche Mode is what immediately comes to mind, though more guitar-leaning infectiousness in the vein of Phoenix arrive shortly thereafter. Like Hot Chip, Gumshen have a wonderful ability to ride infectiousness out for long periods, primarily due to a talented knack for slick transitions.
You can stream Progtronica in full below, or on the band's SoundCloud or Bandcamp. In mentioning their many influences – the "great musicianship of Radiohead to th simplicity of pop music like Phoenix, Franz Ferdinand to huge sounds of dubstep," – Gumshen show a genuine appreciation for a variety of genres. On tracks like "Bell Ringer", that love flows with an infectious enthusiasm. A lovely guitar solo to close things out doesn't hurt, either.