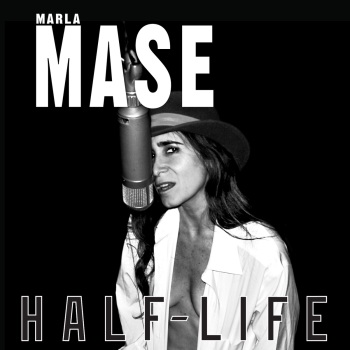 We last heard from Marla Mase in June, when we featured the rockin' "She Hooked Him Up" and its sweet, funkalicious bass lines. At the time, Mase's rock-oriented and poetic approach reminded of Patti Smith, who also found her upstarts in NYC. Now, Mase continues her idiosyncratic delivery on a new album, Half-Life, out February 25th. It's her first release with True Groove Records, with the album title deriving from a Junot Diaz quote: "the half-life of love is forever."
On Half-Life, Mase aims for a more personal approach. "I wanted to go back to the personal," she says. "They say you can find the universal in the personal." On the stylistic end, the album sports lively rock compositions that range from the serenely retrospective (the atmospheric "The Heart Beats") to energetic rockers ("Drown in Blue", "Half-Life"). The album's opener, "Drown in Blue" immediately perks up the album with a brooding of sorts, as if Mase is running away from a monster — the monster of procrastination. The track follows a traditional repeating structure in its first minute, but the second introduces Mase's knack for melodic variation. It's the type of track that's ideal to kick off a show, so the audience is immediately treated to a bolt of energy.
On Half-Life, Mase resembles an eclectic songwriter like Shiina Ringo, able to produce elegant pieces of atmosphere alongside radio-friendly rockers like "Drown in Blue". Half-Life is Mase's most eclectic release to date, and one worth picking up on her Bandcamp.