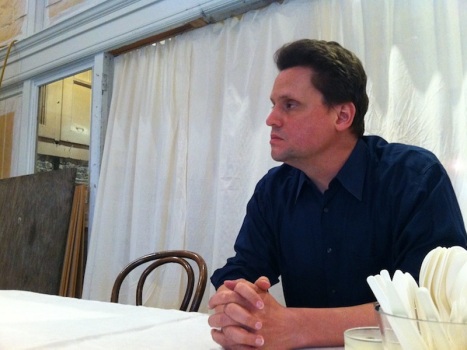 Mark Kozelek is one of the few songwriters capable of making a word like "crab cakes" sound beautiful. Such is apparent less than one minute into his new track "Ben's My Friend", a stunning combination of Kozelek's acoustical passion and brilliantly sensual brass arrangements, whose elaborate touches collide with Latin-inspired guitar and piano trickles for moments of stunning clarity. Kozelek's lyrical approach sounds stream-of-conscious here, like a verbally-inclined friend concisely describing a stage in life over a few beers.
On "Ben's My Friend", adult anxiety seems to be one theme — ranging from worrying about parking and your mother's well-being to co-existing at a Death Cab show among vain, young optimists. Of course, the track is primarily about Kozelek's friendship with Death Cab For Cutie frontman Ben Gibbard, who contributed guest vocals on "Lost Verses", off Sun Kil Moon's 2008 album April. But "Ben's My Friend" also explores the sensation of co-existing with other, more conventionally successful peers. It's a warm, occasionally funny, and strongly narrated effort that shows Kozelek's strengths well, and somewhat more lightheartedly than usual.
The very enjoyable "Ben's My Friend" is the closing track on Sun Kil Moon's upcoming album, Benji, which shared another track – "Richard Ramirez Died Today Of Natural Causes" (below) – several months ago. Already drawing early acclaim, Benji will be released on February 10th via Caldo Verde Records and feature guests such as Will Oldham, Steve Shelley (Sonic Youth), and Jen Wood.