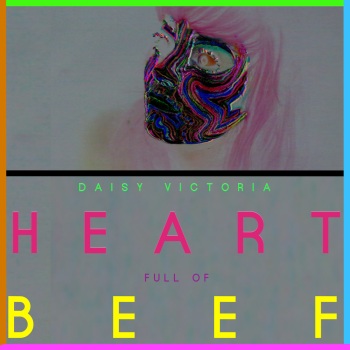 Daisy Victoria just released her first EP, Heart Full of Beef, a few hours ago, but listeners won't need much time with it to become impressed. Daisy has been involved in several music projects before, but just launched her solo project in January. Already, her debut singles have been acclaimed by BBC Introducing's Graeme Mac, Richard Haugh, Sophie Little and Gary Standley. I'll add to the growing list of acclaim with this post. I don't know much about Daisy, apart from the fact that some things she enjoys are "sleeping, HobNobs, films with shaky camera work, and Werner Herzog's voice." But one thing is for certain: she knows how to write some great music, with atmospheres ranging from fierce rock 'n' roll ("Macbeth to My Lady") to haunted-house theatrics ("Cloth").
Might as well start with the self-titled opener. It's a creeper at first, with mellow guitar crunches permeating over xylophone-like trickles. Less than a minute in, a blast of distortion and rollicking percussion signal an intensified vocal performance from Daisy, whose versatile voice reminds of both Lower Dens' Jana Hunter and Love Is All's Josephine Olausson. Bands like Lower Dens and Yeah Yeah Yeahs are tidy comparative references, but Daisy Victoria is producing a sound of her own — as is affirmed by the closing moments of "Heart Full of Beef", where a series of lanky guitar lines stumble over one another, somehow gracefully.
It's not for certain, but "Macbeth to My Lady" seems like the most accessible of the bunch. There are less idiosyncrasies here, but it's the crispest delivery of Daisy's rockin' yet seductive sound. The way she veers into the chorus with a shrill yet sly increase in intensity, proceeded by a gorgeous wave of dirty distortion, is a fantastic illustration of both her tantalizing vocal abilities and interactivity with the backing instrumentation, always ferocious in their joint composure – even on more spacious efforts like "Cloth" and "Tree".
Stream Daisy Victoria's Heart Full of Beef EP below in its entirety, and name-your-own-price for it on Bandcamp: