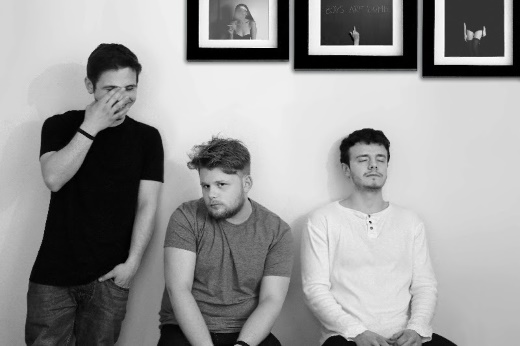 UK trio Ruane Maurice produce one of the most originally intoxicating hip-hop hybrids you'll hear this year. Although hip-hop remains a focus, especially on the vocal delivery front, the trio's wide-reaching stylistic palate is very prevalent. Ruane Maurice knows this themselves. "Our focus has been in making a hip-hop record based on our formal studies and interests in Sonic Art and Sound Design, whilst drawing on our mutual passion for hip-hop, musique concrète, Kraut-rock, 20th century avant-garde, and early industrial music, as well as pop, R&B, and contemporary electronic music."
Their debut self-titled album will be released on September 9th by Brooklyn-based label Stars and Letters. "We've worked hard to create an album that borrows, transforms, layers, and dissects, but that also pushes the boundaries of hip-hop and electronic music." That quote is a nice summary of recently-unveiled album track "Farne". Ruane Maurice tells PopMatters: "Like a lot of the tracks on the album, 'Farne' is deeply rooted in our love for analogue instrumentation (analogue drum machines and synths) and found sounds for use in layering." On "Farne" this sound is often unsettling, which produces an otherworldly ominous mystique that's no stranger to groups like Shabazz Palaces, a solid reference point.
The song's general griminess is reinforced by apt lyrical content, depicting "crappy sound systems, smokey rooms, cheap alcohol. We all miss that shit. 'Farne' is our requiem to a time we aren't going to get back." From the intensely hoarse delivery to the creaking synth/percussion interplay, "Farne" is a track that will hypnotize most listeners keen on left-field hip-hop, who should be very excited for Ruane Maurice's upcoming debut dropping on September 9th.