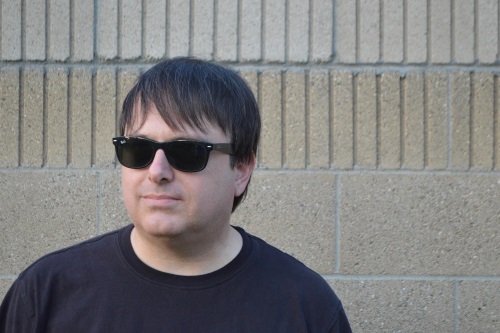 The lovely "Here To Stay" reminds me very favorably of sophisti-pop in the vein of Prefab Sprout, both in its grandiose scope and melodic lushness. As such, the track from The Late Innings begins with a slick assortment of keys, a bustling bass line, sonorous vocals and '80s synth-pop adornments. The particular lead and accompanying video remind me of Prefab's track "Hey Manhattan!". Comparisons aside, The Late Innings puts forth a fresh sound that treads a fine line between '80s sophisti-pop and modern indie-pop elegance, the vocals suavely maneuvering between the clanging keys and brass-like synth effects.
The project itself is the masterwork of Vince Sinex, a veteran singer/songwriter who has been involved in music since the early '90s, when in a synth-pop duo. His new album, Arrived and Departed, is the culmination of seven years of writing and recording. While not a concept album, it digs into themes of separation, particularly the physical sort. "Here to Stay" travels that narrative beautifully. "It's specifically about a guy who has moved from his hometown to a large city to try to make a success of himself; in the narrative of the song, he gets a visit from one of his loved ones (from his hometown) who tries to make the case that he should return (because he is missed so much)," Vince explains. "Their relationship is clearly under strain (because he is so far away), but at the same time he is determined not to let go of his career ambitions."
Check out two other cuts from Arrived and Departed below, and stream the album in full here.