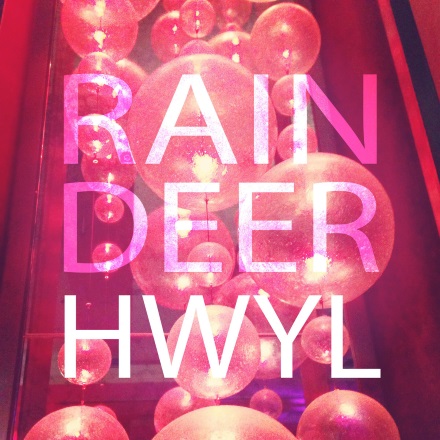 Colorfully playful synths and versatile vocals are staples of Raindeer a wonderful four-piece from Baltimore that makes some extremely spirited music. Their combustible creativity and ceaseless creative energy reminds of Deerhoof, while more psych-laden tracks lend comparisons to Beach House or Animal Collective in both the guitar infusions and synth-laden journeys – while never abandoning the inclusion of a strong hook. Comparisons aside, Raindeer's sound is extremely impressive and highly original in their final result, a fact conveyed strongly throughout their new album HWYL, which has already become one of the best things I've heard so far this year.
The second track off the album, "My Favorite Dream" is a perfect example of why Charlie Hughes' vocals – and the way the band works around them – is so impressively striking. The vocals here remind of another Baltimore-based project in Beach House's Victoria Legrand. "My Favorite Dream" is a piece of swirling magic that will strongly convince listeners to continue with the album, which is the right decision for sure.
"Where'd the Light Go?" finds beautiful swirling synths and spright keys sporadically overtaken by warm waves of guitar distortion, all as the vocals emit a very upbeat vintage-pop feel. Hughes' vocals show off a fun, wordless croon here as well, serving as a nice hook-y way to emphasize the charm of the instrumentation. "Postcard" is tons of fun, with a squiggly synth lead and sonorous vocals guiding toward a blissfully bouncy hook. Hughes' vocals are again impressive here, playing the part of subtle melodic addition during the voices and fierce central force as this hook develops.
It says wonders about the group's songwriting that "My Favorite Dream" and "Postcard" are starkly different in terms of general feel, but they both succeed enormously in upbeat contagiousness and in providing very colorful arrangements.
HWYL is a fantastic album that can be streamed in full below. Check out the group's upcoming tour dates just below that, as well. Their stuff is very easy to love.
UPCOMING TOUR DATES:
1/14 Athens, GA @ Flicker Bar
1/15 Birmingham, AL @ Syndicate Lounge
1/16 Greenville, SC @ Soundbox Tavern
1/17 Chapel Hill, NC @ Local 506
1/22 Brooklyn, NY @ Shea Stadium