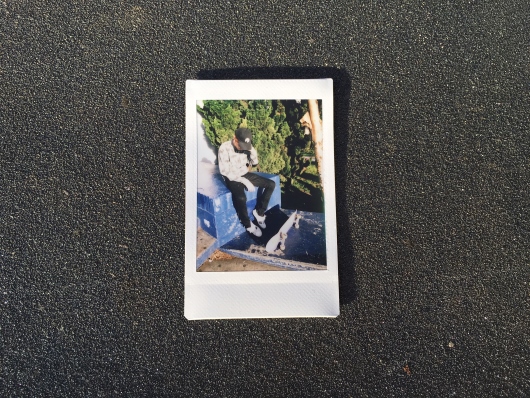 "Chill Pill" begins with alternating between a funky energetic beat and more tranquil electronica, epitomizing brilliantly the process of transitioning from busy chaos to a relaxing couch-bound setting. The R&B-inspired vocals around 01:10 over the percussion-less vocals set up well for the more intense delivery to follow, complemented by glitch-pop-esque rhythms with a colorful appeal. The various vocal effects and layers – both natural and effect-laden – proves for good production, as is the glitch-pop around the two-minute mark – which could have turned messy but did not, especially with the "took a chill pill" hook reprising shortly thereafter. Very nice work here from Charles, a rising producer/songwriter with ample stylistic versatility. His ability to alternate between lush electronica and hip-hop/R&B-inspired infectiousness is commendable.
The track comes from his SOUND DESIGN project. "I plan on releasing it one song at a time, out of order, over the next few months," he explains. "I like the idea of people putting it together themselves over time, and involving the audience in the creative process. There is a very loose narrative that will begin to reveal itself as more and more songs come out. We live in the age of singles, so why not release my whole album as 14 singles?"
While the songs sound sleek and modern, Charles actually did most of the work in a very remote place. "Most of this project was conceived and recorded in a cabin in Wyoming. I used to live in New York City and kinda got sick of all the noise and garbage," he says. "I wanted the exact opposite of the city, so I packed up all my stuff and drove across the country to the middle of nowhere. While recording I'd be BLASTING my music, bass knocking – literally shaking the cabin – and I'd look outside and see a whole family of moose in my yard, just layin' around eating grass, totally unfazed." The starkness in atmosphere seemed to have contributed to a very uniquely affecting sound.
An avid collector of samples, Charles describes his sound "as Space Jazz or Intergalatic Blues or Abstract RnB, like you're drunk at the Mos Eisley Cantina." It's certainly a successful and otherworldly result, with "Chill Pill" hopefully providing indication of more future brilliance from this budding producer/songwriter.