Posted
April 5, 2016 by Mike Mineo
in Tracks
Night Marcher – "Mistakes"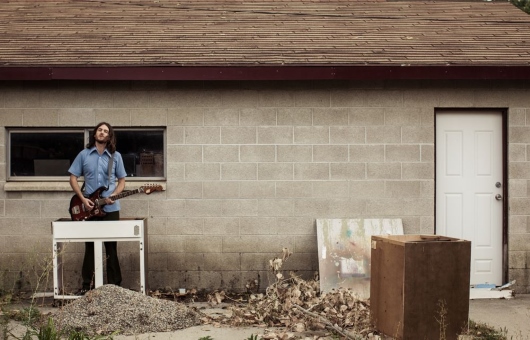 "Night Marchers" was Rob Reinfurt's introduction to avant-groove group Medeski, Martin and Wood, a project that has ultimately influenced Reinfurt's approach to music as a songwriter in a profound way. Ten years after hearing them, he has a striking new project named after the track in particular, and more specifically the Hawaiian legend of "Night Marchers", the ghosts of ancient Hawaiian warriors. The project also features Austin Nicholsen (bass), Shaun Thomas (drums), and Peter Adams (keys).
After a rather unfortunate run-in with the law concerning marijuana, Reinfurt is back on top of his songwriting/production chops, as this project's two new tracks – "Mistakes" and "Scars" – show. "Mistakes" is a starry-eyed piano-led psych-pop crooner, with several symphonic elements that do well in accompanying Reinfurt's sonorous vocals. The more guitar-driven "Scars" also has a symphonic tinge to it, and it's hard to not be reminded of Thom Yorke's arsenal as well between these two — there's certainly an influence, in the sense of both a piano-led nocturnal crooner and rollicking acoustical gem with mysterious chordal changes. Based on these two tracks, this is absolutely a project to pay attention to.
Look out for Night Marcher's new album, Modern Maze, sometime this spring.