Vandal Moon – "Today You Are a Child"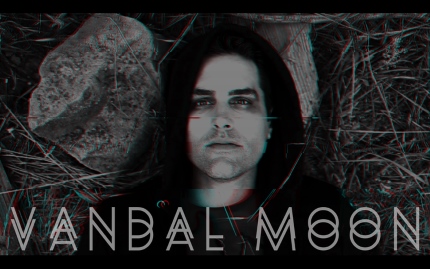 Although it's well-deservedly acclaimed in many post-punk circles, I still believe that the first three Chameleons UK albums – Script of the Bridge, What Does Anything Mean? Basically, and Strange Times – are very underrated, considering the sound they accomplished. Their post-punk sound was tight and dark, yet at the same time could create moments of effervescent beauty. In fact, one of this site's very first features over a decade ago regarded The Chameleons UK; they were certainly one of the acts that turned me onto post-punk and the more obscure side of music in general.
So, in addition to hitting a stylistic sweet spot in sounding very similar to The Chameleons UK, Vandal Moon – the alias of Santa Cruz-based Blake Voss – shows some very nice songwriting chops on new track "Today You Are a Child". The track is from Vandal Moon's fourth album Teenage Daydream Conspiracy, and the video intends to illustrate the story of the "birth and death of a star". Much like the vocal presence of Mark Burgess, Voss' commanding and warbled presence works exceedingly well over the thickly reverberating distorted bass and shimmering guitar lead. The "we all love you" vocal repetition hammers home an eerily detached feeling that cohesively aligns with the track's feel. Loving that nostalgia.