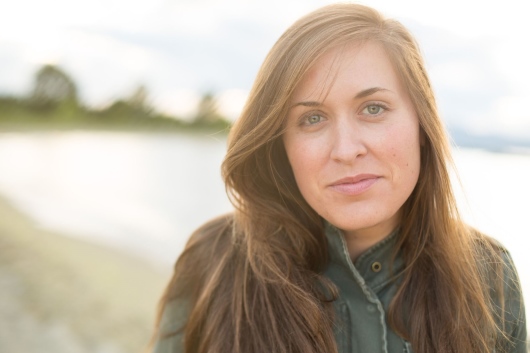 "Virginia" is a gorgeous folk slow-burner and long-yearner from Tanya Gallagher, who recalls Ryan Adams' style with her western-alternative approach and descriptive lyrical content, ripe with historical references and similes. Virginia steals her heart on this effort, with her Florida-Alabama line upbringing showing stylistically in the track's southern stylistic touch. She relocated to Vancouver in the fall of 2013 to pursue a PhD in landscape ecology, though continued writing songs and will be releasing her new album, entitled Virginia, on September 30th.
The lush twangs, no-frills yet authentic vocals, and story-like aroma makes "Virginia" an enthralling piece of songwriting, helping make the background – of both the track and artist – below well worthwhile:
The story of the Virginia EP:

It's 2009. I pack up my car and move to Norfolk to work for NASA as a summer intern. It's my first time living away. I settle into a quiet neighborhood and begin playing music at a restaurant called the Pagoda. Virginia reminds me of home.

In the fall, back in Florida, I start a Masters program. I play shows most nights to help pay for school. My adviser, who studies the science of tree rings, asks me to take his place in the field for a week – in Virginia. While there, I spend a few days playing music south of Richmond before heading west. The Blue Ridge Mountain trees are beautiful in the summertime.

The following spring, I wrap up my research and take a year off school to play music. My friends, James and Emily, invite me to a festival in Virginia. The bluegrass musicians lining the streets of Floyd are some of the best I've ever heard.

It's 2013. I release an album, leave Pensacola, and drive across the continent to Vancouver to start a PhD in forestry. I know few folks in Canada, so most nights I sit in my room writing songs about heartache and home. My first friend in this new country is Brandon Hoffman, the musical wizard who mastered my last album. We spend nights in those early months recording the songs for the album in his living room.

I visit home that Christmas. Sitting in my parents' house, I write 'Virginia' on a beautiful Martin guitar that once belonged to my late friend Dave Schlender – I swear he whispered the tune into my ear. I record the song on my iPhone and send it to Brandon. When I get back to Canada my PhD research ramps up. I find myself playing, writing and recording less.

I visit home again for Christmas 2015 and am reminded of the iPhone recording of 'Virginia' I had made right there in my parents' house, two years earlier. After playing a few hometown shows, James and I decide to book a spring tour to the Commonwealth State.

It's my first time in Virginia in nearly four years. Walking along the moonlit banks of the Elizabeth River, Virginia and I pick up right where we left off.

Virginia taught me love, it taught me heartache, but most importantly it taught me that a home away from home can exist. These songs represent an incredible time of personal growth. I'm grateful to the friends who encouraged me along the way – and of course, to Virginia. These songs are just as much for those people and that place, as they are for me.