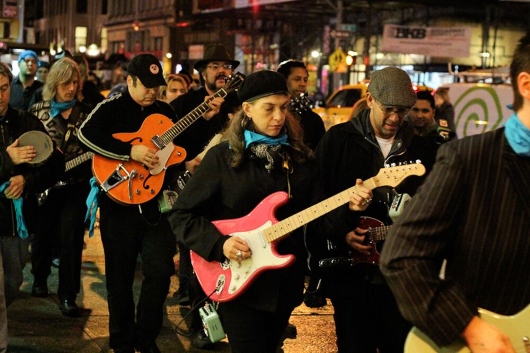 Patrick Grant has an eclectic history in music, with background in gamelan music and vanguard theater work, as well as fronting the post-rock group Tilted Axes, which he formed in 2011 as part of Make Music Winter, an event which transforms New York City with participatory musical parades in honor of the winter solstice. Consisting of various guitarists, the project performed with portable amps at their side as they walked through the city streets.
It didn't stop there; the project has evolved with multiple incarnations in NYC, Düsseldorf and Detroit. Their process is simple: "When a festival or other institution wishes to stage a Tilted Axes event, a call is put out to local guitarists to apply to participate. When an ensemble is selected from the applicants, they are given via MP3s and PDFs the music to be performed at the event so they can learn it in advance. A week before the event, Grant arrives with members of Tilt Core and rehearses the local musicians in the various techniques of musical performance, improvisation, and staging that make up the procession itself. A procession route within the host city is predetermined. The routes often include city squares, centers of transportation, and indoor structures like museums. The procession is accompanied by posters and placards which let the public know more about the event, sponsors, the hosting organization, and its purpose."
It's a fun form of street theater, whose creations are on full display throughout the project's new album, Tilted Axes: Music for Mobile Electric Guitars, which can be streamed in full below. From dissonant crawlers like "Circulation in G Maybe" to the thunderous post-rock of opener "Shapes 1", it's a very worthwhile release for fans of experimental post-rock with regard for classical music and other styles.