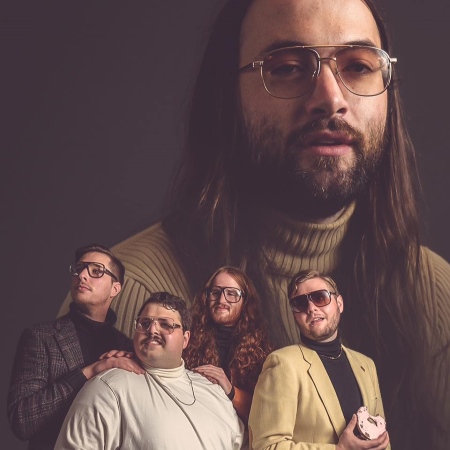 These three tracks from Oklahoma City-based Special Thumbs come off their 4-song EP Pollen, released in October. As evidenced in these efforts, the group emphasizes melodically captivating vocal harmonies, bluesy guitars, and atmospheric synths in their sound, resulting in an eclectic approach that hops between rock, psychedelia, blues, and pop. The three tracks do a great job of showing this variety. "Lady Fingers" is a simultaneously heartwarming and humorous ode (finger smell?) to that someone special, with a country-ish guitar twang leading the instrumental arsenal.
"Abduct Their Starship" explores the group's more atmospheric side, with the spacey production effects – a whirring reminiscent of empty space – matching the title well. Just past the one-minute mark these effects combine into a guitar-heavy approach, with a highly textured guitar and bass lead that takes a cue from spacey shoegaze. Contrary to the calm and spacey beginnings, the chorus presents a lively hook with peppy vocals and guitar work, before the spacey soundscape emerges again as a bridge-like device.
"Smothered" is perhaps the most accessible of the bunch, with playful keys and a charismatic dual vocal delivery playing nicely over contagious power-pop guitar progressions. The vocals here are particularly exuberant, reminding of The Hold Steady — while the very cool dark-synth interlude at 02:10 has Future Islands vibes. These three very different efforts all succeed with their own individual charm, showing this talented OKC-based group as one to watch for.