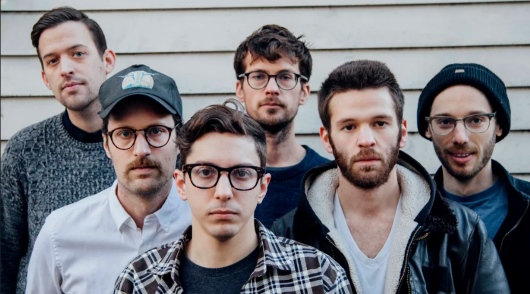 Based out of the Brighton neighborhood of Boston, MA, ABADABAD are a "retro-fied pop/rock sextet" that evolved from a bedroom recording project into a larger ensemble, drawing acclaim for their live presence and stylistic taste. A mutual interest in classic jazz, rock, and funk records from the mid-to-late '70s is evident, providing a sense of beautifully concocted nostalgia throughout "10 Fingers", their first single off their debut LP, Touch the Feel.
Regarding the track, the group elaborates on the process:
The song serves as an invitation to the new sonic architecture of ABADABAD, evolving from the lo-fi bedroom sound of The Wild EP into something more alive. The instrumentation and arrangement were inspired by the recording space. Mystic Steamship Co. in Arlington, MA (now Love Magnet in Roxbury) was a small tape studio below a salon in Arlington Center. Ian Doerr's (producer/engineer) hyper-specific drum sounds and 'playing' of the tape delay create the swirling, psychedelic environment that the song lives and breathes in. "10 Fingers" was the first song to be recorded for Touch The Feel and laid the foundation for further explorations into the aesthetic and sound, both live and in the studio.
"10 Fingers"' first verses are fairly minimalist, a steady percussive beat and murmured bass alongside nonchalant vocals. It evolves, just as this former bedroom-project did, into expansive beauty; trickling guitars and synth additions past the two-minute mark sound like a cross between Real Estate and Memory Tapes. Excellent work here.