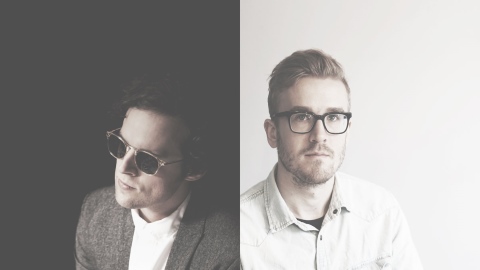 Maple & Beech, the Minnesota-based duo of Tyler Tholl and Pete James Johnson, have a recently released track called "Cavers" that hooks quickly. Bouncy synths and guitar trickles fade in, with evolving percussion complementing crisp vocals. This leads into a chorus preceded by a vocal exultation that recalls Paul Simon's Afro-pop-y tone, with blaring brass-like resonance combining with a tropical-like melody just past the one-minute mark to wisely counteract the more aggressive chorus. With lyrics loosely based on "fighting distraction, unhealthy worry, and apathy; about trying to live and engage in the present," "Cavers" is consuming on every level.
The track's music video can also be seen below. "To make the video, we went back to our hometown indoor roller rink, The Skatin' Place in St. Cloud, Minnesota, where we spent many nights rollerblading, laser-tagging, and sweating through two layers of t-shirts as kids in the '90s," Tyler explains. "My brother, filmmaker Justin Tholl, captured it in a single shot. The video stars our friend, Nicole Wilder, who also sings backup on the track."
Maple & Beech – "Cavers" (Official Lyric Video) from Maple & Beech on Vimeo.