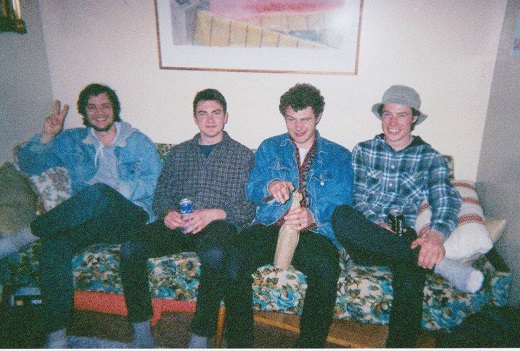 The Crowleys – an act out of Hamilton, Ontario – provide an interesting spin on jangle-pop, adding tinges of surf guitar and robotic vocal tones to the mix on new track "Midnight Blue", which explores "where your mind takes you on a sleepless night." The gliding jangle and robotic vocal production work in hypnotic fashion throughout, the vocals pausing for a bass-led interlude after the three-minute mark before returning with a shimmering guitar-led melody.
The creative process for the track's music video is explained by the band below:
Our friend Evan Bond animated the video for us. We met him when he offered to help us move a new mixing console up three flights of stairs into our friend Michael Keire's studio. When we learned he was a talented artist and animator we knew we wanted to work with him and the time felt right when we started brainstorming ideas for the new video.

We pitched Evan a very basic idea and gave him full creative freedom after that. He did a great job of portraying the emotion of "Midnight Blue" through the short, minimalistic animated story. The carefree yet melancholic tone of the song guides an antique robot through a day at the beach where his imagination and reality clash. It exemplifies the loneliness and anxiety hidden behind a happy facade which is what inspired the track in the first place.