Wherever you are and no matter what you do, there is always something that will distract you from work or study. How to stay well focused and maintain a high productivity? The right music will help you.
Studies of scientists from the University of Birmingham, UK, have shown that music is an effective assistant in performing monotonous work. Whether it is a thoughtless check of your e-mail box or filling out a table, the presence of music helps to speed up the performance of such tasks.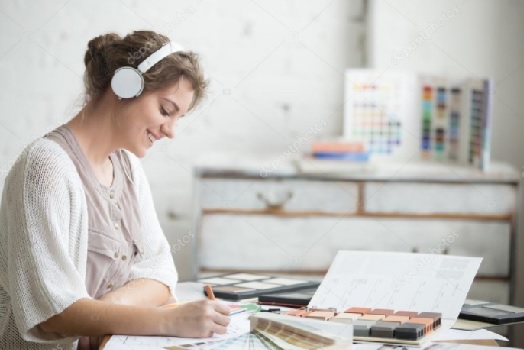 If it comes to a complex, creative, and intellectual work that requires an active involvement of the brain, then any music no longer fits. Here you need a special playlist.
Sounds of Nature
The recent studies of scientists from the Rensselaer Polytechnic Institute have shown that the presence of natural sounds in music makes you feel better and helps be focusing on details.
The sounds of nature similar to the white noise well disguise the human speech, to which we are easily distracted, and also positively affect cognitive functions and concentration. These sounds are great for learning English or other languages on at preply website. Thanks to natural sounds, the overall satisfaction of the subjects during their work was steadily growing.
In addition to the chirping of birds and the sounds of rain, which are most often associated with nature, the beneficial effect is caused by the gurgling of a creek. According to the same studies, the noise of the mountain stream is also included in the category of attention-enhancing sounds.
It does not matter, whether you will listen to the recorded the only sounds of nature or turn on the music containing these elements. Both options will give a positive effect.
Finding the sounds of nature is quite simple by the appropriate request, for example, on YouTube.
Favorite Songs
Each of us has a certain number of tracks that we like more than others. Making such a playlist is useful because it is your favorite music that helps you work or learn better.
Stress forces us to make hasty decisions and the attention span is significantly narrowed. Improving mood through music allows you to look at things more widely and to consider more options.
It is interesting that favorite music has the greatest effect in cases when a person has not yet become an expert in his current work. Listening to favorite songs allowed such subjects to perform tasks faster and generate better ideas.
Neutral Music
Perception of the environment varies from person to person. This is confirmed by the studies of one Taiwanese university. A certain number of people, when listening to the most and least attractive music for them, react with a decrease in concentration. This is just the case, when you hear your favorite track, you do forget about everything and completely go into it. If you observe a similar reaction to your favorite and hateful music, include in your playlist the most neutral songs that do not produce your strong emotions.
Instrumental Music
Words are distracting. According to research Cambridge Sound Management, the noise, in a general way, cannot be blamed for the decline of productivity. It is words that distract us, because a person, hearing a speech, inevitably switches from the current session and begins to listen to the topic of the conversation. This is our social nature and this phenomenon was affected about 50% of the subjects.
We can be distracted by any spoken words, regardless of whether we hear them in the office noise or in a song playing in headphones. Did you notice how you catch yourself listening to the lyrics of a song? This is exactly the case. Instrumental music will help to those who are usually sticking to the lyrics. The absence of words means no distraction.
Epic Music
This is a very successful music format for concentrated work on an intellectual product. On YouTube, there are quite a lot of collections of so-called epic music. It is energetic and dynamic music that well tunes for work, but does not distract as much attention as serious classical music. For some people, this is a kind of "anchor" for certain types of intellectual work.
We hope that these recommendations would help you to create your own playlist and work successfully without fatigue.