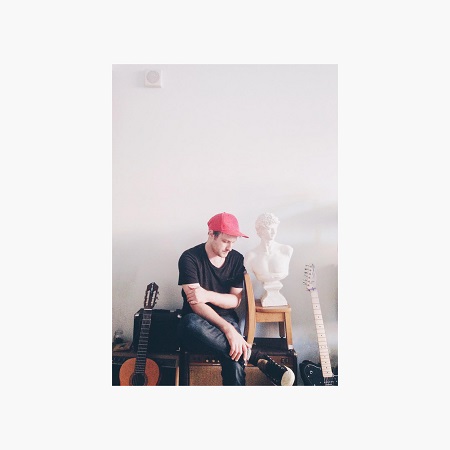 NYC alt-folk artist Tender Glue is the project of Tom Gluewicki, who self-recorded the captivating track "With You Here" – the first single from his forthcoming album Closet Leftovers – in the closet of his studio apartment, apt considering the album's name. He describes the effort as "a textural and ambient modern take on alternative folk." Doing it all himself, "With You Here" is an impressive achievement, his vocals showing just enough emotion though not to the point of outweighing the solemnly effective melody, perking up a bit during the chorus' percussive entry. A very solid offering from Tender Glue, for sure, off a forthcoming album in Closet Leftovers with ample promise.
Per Tom, here's more on the track's creative process:
Five minutes before going to work, I started playing my guitar and wrote down the lyrics, not really thinking about anything (I ended up almost late to work that day). Later on I realized that the part of the lyrics when I say "I'm so slow, I can barely see", had to do with the time I lost partial vision for a moment, probably due to an unhealthy lifestyle. At that time in my life, I wanted to get healthier, so for me it's about that. During the recording process, I sat down in my closet/recording studio, and started with vocals and guitar in the same take. Then I added the second guitar, drums, and bass. The whole process took a few days because I was only able to mix part of it when I had the time. Usually it was late, after work around 3am.