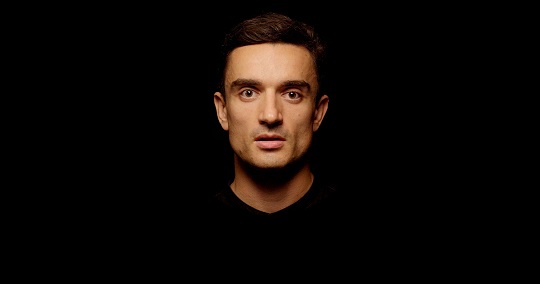 London-based artist Talk Less Say More just released the music video for his captivating track "Repeating", inspired by the surrealist tendencies of director David Lynch, as well as referencing Peep Show's Mark Corrigan's cult passage that he's "living a normal life and no one can prove otherwise" — despite evident hectic day-to-day life.
We had a chance to catch up with Talk Less Say More to find more about the excellent, innovative video and his general background:
The video for "Repeating" is captivating throughout. How did the idea/concept for the video come about?
Early on in the discussions, Ieva from Blake House Filmmakers Cooperative (who co-directed the video) mentioned she had just got a puppy. I suggested we feature him in the video as at the very least it would mean I would be able to hang out with a puppy while we were filming, which should make the process more enjoyable! I wanted it to be lit so that Bernie would look like he was in a Caravaggio painting. Aside from that there wasn't too much decided before we started.
The narrative emerged as we filmed and edited the piece. I often find this to be case in a creative process. You don't get to decide what the thing is about at the beginning – it will reveal itself through the work.
David Lynch's surrealism seems to be an influence on the video's surrealism. How did you get into Lynch? What's your favorite film from him?
I'd say the first season of Twin Peaks would stand out as being the piece of Lynch's work that has been most influential on me in general. There is a lot of humanity and warmth alongside the mystery of the unknown. We certainly wanted some striking and surreal moments in the video and drew on Lynch as inspiration.
At which age did you get started with music?
I suppose I started writing songs about the age of 16. I was always more interesting in songwriting and arranging rather than mastering an instrument. At least that's my excuse for being distinctly average on everything I play!
Your sound manages to impressively blend aspects of pop, ambience, krautrock, techno and hip-hop. Has there ever been a desire to hone in one something more narrow, or have you always been aiming for a very eclectic sound?
I wouldn't exactly say I aim for a particular sound. I try to follow my instincts where they want to go, and write the parts the song needs without too much consideration for genre. I listen to lots of different kinds of music, and so inevitably when these sounds start popping up, I will nurture them rather than weeding them out.

How has your music evolved?
Across the Three Birds trilogy, there has been a trend away from synthesisers and electronic-style production towards a more 'live' sound. I used more real instruments on Bonfire Night than I did on Violent and England Without Rain, and used a cleaner vocal sound.
Perhaps the most significant moment of musical evolution for me was bringing back a Guzheng from China in 2011. I have been playing it in much of my music since then, although it doesn't feature very prominently on Repeating.

Which musician would you like to collaborate with?
Huun Huur Tu, the Mongolian Throat Singers.
What's on the horizon for the project?
I want to play live more this year. I have been re-arranging the songs so I can play them solo. A few more releases are in the pipeline. For one I am working on a Christmas album which will be out this year, so put it on your Christmas list!