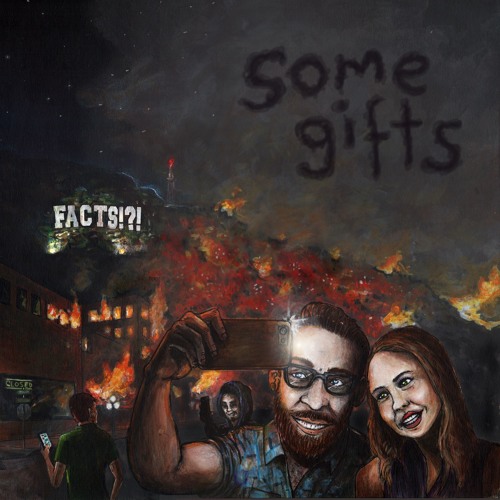 One-third of Los Angeles trio Some Gifts, Vic Lazar, describes their new track "Millennial Discontent" as "a fierce, fresh, heavy anthem about political awareness in an age of distraction." Written two years before today's political chaos, the track's theme is an enduring one. Ardent vocals, with a punk-like angst, ascend in intensity over distorted guitars and a very active rhythm section. The aesthetic reminds fondly of early ¡Forward, Russia!, a hook-y vein of energetic art-rock with alternative and punk influence. The track's lyrics are engaging in detailing the millennial generation: ""They're not miserable / Or overly emotional / They prefer digital, digital, digital and always side with science."
"Millennial Discontent" is from the band's second album, Facts?!?, which will be available on digital in September 2018. For this album, Some Gifts worked with producer Manny Nieto (The Breeders, The Chavez Ravine, HEALTH). An album release party is set for 9/1 at Old Towne Pub in Pasadena, CA.
The track's lyric video is below:
"Millennial Discontent" and other memorable tracks from this month can also be streamed on the updating Obscure Sound's 'Best of August 2018' Spotify playlist.