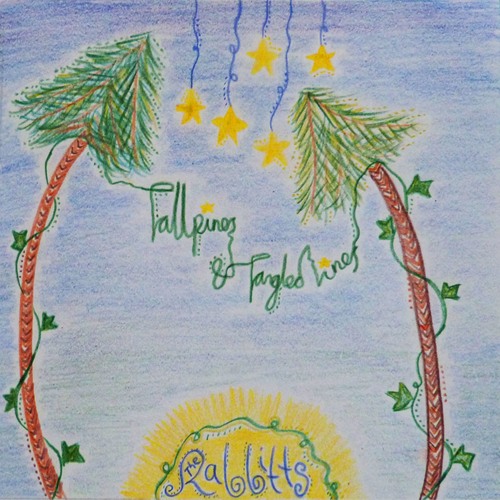 Quaint acoustics and a vocal duet begin "Wild", accompanying lyrical imagery of a hummingbird heading west out of adventure. It's similarly pleasant throughout this new track from The Rabbitts, the British folk duo of Odhran Linsey and Lucy McKinlay. More of the same endearing approach can be heard throughout their new full-length debut Tall Pines & Tangled Vines, which was largely inspired by The Rabbitts' stay in British Columbia. Lush vocals and frolicking guitars are eventually joined by a harmonica, as they tell the story of a man who buries his modern life in the dirt. Singing about the beauty of embracing life's simplest things and living with minimalism in mind, "Wild" is an enjoyably carefree track from The Rabbitts.
Stream Tall Pines & Tangled Vines in full below:
Also, more on the duo's background:
The Rabbitts are a British folk duo whose music is gentle, fun and riddled with natural imagery that masks darker subtexts. As a couple the pair draw inspiration from their relationship, as well as old folk music and the new places they travel. The duo are currently touring and travelling around Canada.

The Rabbitts began over 4 years ago when Odhran asked Lucy if she could help tune his guitar (a coy plan to show his abilities on the 6 string acoustic). The pair were studying Environmental Science in the UK and quickly found friendship and love in discussing all things music. Since then they have been inseparable throughout adventures in Europe and Canada, drawing inspiration to stash into their songwriting.

Their musical style is a unique mesh of folk scenes stretching through time. They are releasing their debut LP "Tall Pines & Tangled Vines" on June 30th, 2018. Over the winter The Rabbitts were burrowed away living in their van to save up for the album. The sacrifices of living in a vehicle gave the duo drive to flood all efforts into the LP. It was recorded at Orchid Studios in Vancouver, using predominately vintage recording gear which helped draw out the warmth in their performances. Previous to this, The Rabbitts released their debut EP 'Avocado Ginger Tree' in May 2017, which has since had over 60,000 track downloads.