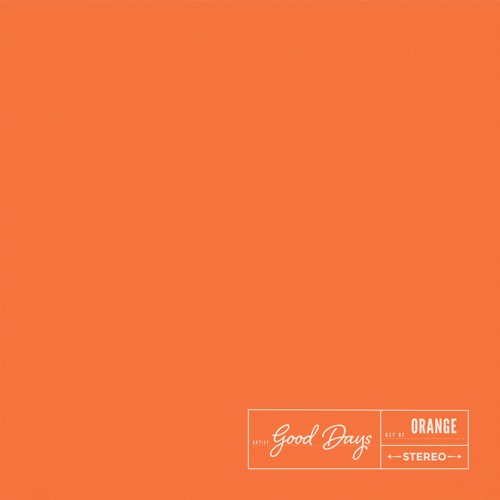 "Orange" is an excellent track released today from New York act Good Days, following up "Red" as the latest installment in their ROYGBIV singles collection. For the tracks on this release, the duo of Eric Ronick and Michael Cannova recorded in a room filled with the track's respective color — "Red", "Orange", and "Yellow". Inspired by Cannova's synesthesia, the color influenced tempo, music style, and the lyrical content, particularly in psychological examinations of each color.
The track's hook-y vocal harmonies, piano-laden pop shimmer, and playful bass line comprise a bouncy pop success, with a shimmering exuberance in the uplifting chorus — "believe in yourself." It's the type of feel-good, harmonious track – urging to make the most of life – that feels fit for sunshine adventuring, a positive mood-setter for the week's beginning.
Per Good Days, here's some elaboration on "Orange":
Orange, the most adventurous color in the spectrum conveys courage, confidence and truth. And what's more adventurous than life itself? There are highs and lows. There are times when it feels like it's flying by and then there are moments that seem to slow and almost stand still. The one consistent truth that we all share is that life's not forever. Realizing your own mortality and deciding not to waste it is the great adventure and deciding to do something about it takes a lot of courage and confidence. There's a fire inside us all and we hope that no one will waste it.
"Orange" and other memorable tracks from this month can also be streamed on the updating Obscure Sound's 'Best of September 2018' Spotify playlist.
The track is also featured in the genre-based, best-of Spotify compilation Catchy Indie Pop 2018.