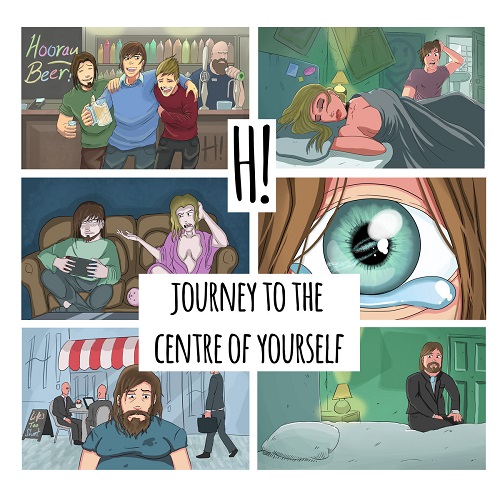 "Hooray Beer!" is the fun opening track off Journey to the Centre of Yourself, the new EP from Swedish experimental pop/rock songwriter H! (Howard Beard-Marlowe). There's a very spirited feel to begin, regaling tales of a trip to the bar and an ensuing spiral. The tinge of ska in the guitar progression reminds fondly of British group Madness. There's ample variety, too. The transition at the two-minute mark shifts into a darker, more ominous tone, the vocals aptly singing "When you feel / Like time has stopped," as much of the instrumentation assumes a more brooding tone than before.
"This E.P. is a very personal reflection on my life from 18 to 24," H! says. "Each song sort of represents a year and were actually penned on paper during that time. The comic book images are designed to represent each frame but moreso how I saw myself at that time, not necessarily how it was…"
Stream the rest of the album below:
"Hooray Beer!" and other memorable tracks from this month can also be streamed on the updating Obscure Sound's 'Best of October 2018' Spotify playlist.